The POUND in Eel Ground Gets Bigger & Better! Enter to Win!
Update: Congratulations to Amy Jardine and Glenda O'Neill Wood, winners of a three month membership to The POUND! 
Eagle Athletic Performance Complex, better known as The POUND in Eel Ground First Nation strives to be the premier Fat Loss Fitness Facility in Atlantic Canada. The POUND uses the latest hybrid training methods, top of the line equipment and nutritional strategies to make Miramichi lean, strong and fast.
The POUND was first established in March 2009 by trainer Brad MacMillan, a retired RCMP officer. It began with a boot camp style training program that was offered at noon to a small group of people.
Within a few short months the popularity of the program increased and the group expanded to the point that additional sessions were required at 6am,6pm and 8pm to meet the needs of the clientele which includes RCMP, Correctional Officers, EMTs, teachers, nurses, athletes and many others.
Today there are 10 sessions every weekday at 5:45am, 6:45am, 8am, 9am,12pm, 4pm, 5pm, 6pm, 7pm and 8pm and five sessions on the weekends. This great schedule ensures that everyone has the time to POUND everyday!
In a modest building that was once an automotive garage clients used a wide variety of equipment: Russian Kettle Bells, ropes, prowlers and dumbbells, coupled with body weight exercises that provide a fast paced, intense workout.
You will not find treadmills or machines at this facility because they are not optimal for Fat Loss and Muscle Gain.
In March 2012 the facility was expanded and moved from the garage to its own larger 3000 square foot complex in order to handle the influx of new members eager to get into the best shape of their lives with the most unique and exciting ways to build the most muscle and lose the most body fat.
The POUND is also home to New Brunswick's first and only INBODY 230 Body fat analysis machine, in less than 60 seconds you can find out exactly how much body fat and muscle you have.
And last but certainly not least, the POUND will be expanding again, adding another 2400 square foot extension and getting even more amazing Fat Loss/ Muscle building equipment.
The new expansion will be ready in March 2013, so GET READY to get into the best shape of your life! POUND IT! You won't regret it!
Giv'er at the Gym Contest!
Enter for a chance to WIN A FREE Gym Membership or Fitness Class!
Mighty Miramichi has partnered with local fitness and health centres to help you maintain an active lifestyle. Each week until March 30th we will be giving away a free trial gym membership or fitness class from these participating locations: The Pound, Westside Fitness, Peak Performance Health Centre, Cutting Edge Fitness, and Better Bodies Training Studio.
Click here for details and to enter!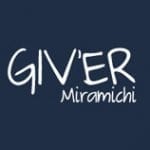 Giv'er Miramichi is about "What's up, what's new, what's happening". We are focused on building people up, supporting one another and celebrating our successes.