Narrowboat Named "Miramichi" Recently Launched in UK
Bill Blanchard sent us a couple of photographs of his new narrowboat with a very familiar name that he launched recently at Crick near Northampton in the UK.
"I think it will be the only one with that name on the English Canals," he said.
"Narrowboats initially were used at the start of the industrial revolution in the middle of the 18th century. The canals were built to transfer goods from the industrial towns to the ports such as London via barges as they were known at that time," he added.
"Narrowboats are now generally used for leisure purposes. Racing is definitely not on the list of their uses as the speed limit on the canals is a maximum of four miles per hour. Modern boats such as ours have all the modern conveniences such as central heating, toilet and shower, a fully fitted kitchen including washing machine, in fact some people live on them permanently."
Miramichi is 55' long and 6' 10" wide.
Bill's father was born in Bathurst in 1915. Growing up, he used to tell Bill tales of when he was young and fishing on the Miramichi which left a lasting imprint so as a result he got permission to use the Miramichi Logo from Peter Murphy, Director of Community Development & Tourism for the City of Miramichi, and decided to name his boat after our great region.
"My grandmother moved to Saint John and married a man called Archie Coakley. Dad took that name but when war broke out in 1939 he joined The Royal Carlton and York Regiment, reverted to his mother's maiden name of Blanchard and sailed for England from Halifax on December 9th of that year," Bill said.
After paying a visit to the New Brunswick office of National Statistics in Fredericton in 2005, Bill managed to trace two of his cousins and visited them at their home in Saint John.
"My brother Zane has never visited Canada and we decided many years ago that one day we would both fish the Miramichi," Bill said. They have booked into the Country Haven Lodge in Gray Rapids later this summer.
"Following this we will all be staying in the City for a few days and the plan is to visit with our wives the places Dad spoke of such as Tabusintac, Bathurst and of course a visit to Saint John," Bill said. "It's rather ironic that one of my granddaughters was born in Canada in 2003 and so in some ways the family has returned to Canada."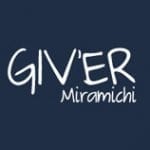 Giv'er Miramichi is about "What's up, what's new, what's happening". We are focused on building people up, supporting one another and celebrating our successes.