Westside Fitness Moving Miramichi toward being a FIT City! Enter to Win!
Update: Congratulations to Junior Goguen and Shelley Bryenton, who both won a one month membership to Westside Fitness!
Since 2005, Westside Fitness centre has been offering Miramichiers a spacious workout environment.
Located at 520 Newcastle Boulevard, Westside Fitness is family owned and operated. Darryl, Doris, Sarah, Cody and their staff welcome all ages to come and enjoy their facilities.
They offer a wide selection of cardio equipment from treadmills and bikes, to elliptical machines. Westside also has a great selection of weight machines and free weights to help you workout all your body parts.
In addition to cardio and strength training, Westside's IR Sauna offers a Body Detoxification and helps with pain relief from arthritis and sore muscles. Their T zone is the latest in vibrational technology and helps to improve circulation and sore muscle relief while strengthening the body core.
Westside also offers the Simply for Life program to educate members on how to read labels at the grocery store and buy the right foods.
Zumba classes happen daily and are a great way to celebrate your Birthday party!
Everyone is welcome to drop by for a guided tour and check out what they have to offer.
Westside Fitness is open 365 days a year from 5:30 am to 10 pm Monday through Friday and 8 am to 8 pm on Saturday and Sunday.
Clean showers and ample parking will add to your overall experience.
With every gym membership you receive a needs assessment, a personalized program, support and coaching.
Westside Fitness is committed to the goal of moving our city from being a FAT city to a FIT city!
For more information visit their website at www.mywestsidefitness.com or telephone (506) 622-6000, fax (506) 773-9225, and email .
Giv'er at the Gym Contest!
Enter for a chance to WIN A FREE Gym Membership or Fitness Class!
Mighty Miramichi has partnered with local fitness and health centres to help you maintain an active lifestyle. Each week until March 30th we will be giving away a free trial gym membership or fitness class from these participating locations: The Pound, Westside Fitness, Peak Performance Health Centre, Cutting Edge Fitness, and Better Bodies Training Studio.
Click here for details and to enter!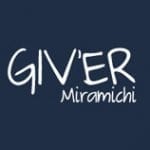 Giv'er Miramichi is about "What's up, what's new, what's happening". We are focused on building people up, supporting one another and celebrating our successes.