Melanie Richard Wins Festival Design Contest
Yes, it was homework.
But as the project grew, Melanie Richard started to use her imagination, grabbing some inspirational wind in her talented sails along the way.
Ms. Richard's ship came in when she was announced the winner of a promotional poster contest for the New Brunswick Festival of Tall Ships on the Miramichi, scheduled for May 31 to June 2. The contest was sponsored by the Miramichi Chamber of Commerce.
She is a second-year student in NBCC Miramichi's Animation and Graphics program under the direction of staff members Norma MacLean, Debbie Larsen and others.
"This was a school project that was part of our mark, but it became more than that for me because I really had an interest in this design package because of the interesting subject of tall ships," said Ms. Richard, a native of Grand-Digue, NB. "I thoroughly enjoyed the design package. I was really surprised to find out I had won. Some of my classmates created some amazing work. I put a lot of time into the package. It was a lot of fun."
Ms. Richard would probably be attending the tall ships and all their splendour in the downtown core and on the Mighty Miramichi River, but it's going to be a little extra special to see her design prowess all over the region promoting the three-day event.
A little ironic considering she's an avid outdoor enthusiast, but hadn't spent a lot of time researching tall ships and their allure prior to the class assignment.
"I'm not going to say I was an avid fan of the tall ships, but I do love the artwork of ships," she said. "That's where my inspiration came from. I envisioned the wood work detail, the sails, the flags and the windows and portholes. I wanted to make the design bright and cheerful which is why I chose brightly coloured wood. The pictures of the ships were also brighter images."
The design features a family of four in a left-hand porthole depiction, flanked on the right by two majestic tall ships with the bright blue water and white cloud cover drawing the eye to the stars of the show. A stand-alone tall ship in the bottom right corner acknowledging the Festival of Tall Ships and a ribbon panel with the event's name and dates also dots the design.
The award-winning design has fuelled Ms. Richard's passion for her chosen field of study. It was the reason she enrolled at NBCC Miramichi out of Shediac's Louis J. Robichaud High School in the first place.
"I chose NBCC because I believed it had the best course for the field of graphic design in New Brunswick," she said. "I've been fortunate to have some incredible instructors during my two years here."
Two years has certainly passed quickly. It's almost time to create her biggest design to date … her future.
"I would love to be working in my field of studies within the Moncton area since all of my family lives in that region," said Richard. "There are certainly goals I have and within five years of working, I'm hoping to be opening a business with two other partners to do brand and design work. With that being said, I would also love to do extra graphic design work as another self-employment endeavour."
Article & photos republished by permission of NBCC In the Loop.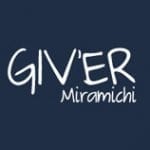 Giv'er Miramichi is about "What's up, what's new, what's happening". We are focused on building people up, supporting one another and celebrating our successes.