Miramichi Men's Fastpitch Week Nine Recap
by Shawn McCarthy
Action in the Miramichi Men's Fastpitch League resumed this week on Monday Night when the Miramichi "Jungle Jim" Brewers took to the field against the league-leading Miramichi "Towne Ford" Rangers. The Rangers took the big W by an 8-3 margin with Kirby Curtis and Alan Hilchie both offering home runs and the always dangerous Jimmy Keenan notching 16 strikeouts. Ashley Cosgrove swallowed the bitter pill for the Brewers, with relief from Blake Lynch; the two combined for four strikeouts. Offensively, Blake Lynch led the way with a triple and two singles.
Tuesday night's action saw the newly resurgent Eel Ground Eagles take on the second place Nelson "Days Inn" Red Sox. The Eagles have been on the march up the standings as of late, after acquiring pitcher Trevor Ryan, but the Red Sox looked to stop their assent. Cory Lynch threw five strikeouts for the Sox, adding a double while at the plate. Alas, it was not enough on this night, as the Eagles bore down. Trevor Ryan blitzed with 11 strikeouts, complimented with great offensive showings from Harvey and Mike Simon, as well as Chris Ryan, in order to arrive at a 7-1 victory.
Eager to avenge themselves, the Nelson club went back out on the field that same night to test their mettle against their long-time rivals, the "Towne Ford" Rangers. That extra drive pushed the team to a 17-11 finish, carried to triumph by players such as pitcher Dan Goodin, who gained another five strikeouts, and Ranson Harris, who went 5/5 with two RBI. Keith Sullivan took the loss, having thrown one strikeout, while Allan Hilchie added a home run and three RBI. It would seem as though the irresistible force that was the Rangers team, has encountered a few immovable objects as of late. If nothing else, it certainly proves that it's all still up for grabs and there's plenty of season left before the end of year tournament.
Our last game this week saw the Douglasfield Dodgers edge the "Jungle Jim" Brewers by a score of 11-9. Dodgers pitchers Ryan Doyle Devon McKenzie took the win, leaving Brewers' hurler Blake Lynch to take the loss. Devon McKenzie managed two triples from the plate, while Jesse Burke and Jeremy McDonald also had a triple each. Ashley Cosgrove homered for the Brewers, while Mike Boudreau achieved a triple and a single. With the win, the Dodgers strengthen their grip on the third place spot in the league, while the Brewers to fifth.
Elsewhere, we wish to inform that Senior Men's Softball is returning to the River this weekend, after more than a decade of absence. Trevor and Chris Ryan, alongside Jim Keenan, Ian Underhill and Kirby Curtis will all be members of the host team during a tournament in Nelson July 20-21. Teams from Charlottetown, East Hants and O'Leary will take part in the two-day event. Fans of the Miramichi Hi-Lo Schooners will remember the competitive days of Senior Softball in the area, and the organizers of this tournament hope to use it as a test, with an eye to placing a team in the Maritime league, should sufficient interest exist.
Here's how things shake down in League, after nine weeks of play:
Miramichi Towne Ford Rangers
9 Wins, 2 Losses, 18 Points
Nelson Days Inn Red Sox
8 Wins, 4 Losses, 16 Points
Douglasfield Dodgers
4 Wins, 6 Losses, 8 Points
Eel Ground Eagles
3 Wins, 5 Losses, 6 Points
Miramichi Jungle Jim Brewers
2 Wins, 9 Losses, 4 Points
Pitching Wins
Jimmy Keenan (Rangers) – 6
Dan Goodin (Red Sox) – 6
Strikeouts
Dan Goodin (Red Sox) – 64
Jimmy Keenan (Rangers) – 63
Ashley Cosgrove (Brewers) – 34
Home Run Leaders
Greg Sullivan (Rangers) – 4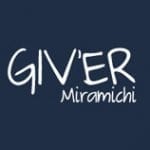 Giv'er Miramichi is about "What's up, what's new, what's happening". We are focused on building people up, supporting one another and celebrating our successes.