Shadbangers Ball II – Old Home Night
Road to Canada, at the Shadbangers Ball II – Old Home Night on July 27, 2012 from 7:00 – Quite a bit later… at the Miramichi Exhibition.
Following the huge success of last year's Shadbangers', Miramichi storyteller and songwriter Steve Heckbert is set to release the second in his trilogy of recording.
This year Road to Canada, features 18 new songs written by Steve about his travels across our country. Last year's recording Top Down was hailed by reviewers for its strong storytelling presence and the new recording lives up to that reputation.
The double CD set will be released on Saturday July 27th at the Shadbangers Ball II – Old Home Night. Steve, who currently lives in Houston, Texas, has been working over the last year with Packin' Shed Sound Studio, where owner Jim MacDonald has assembled some of the very best in Miramichi talent to record the stories that only Steve can tell.
Steve is the quintessential Miramichi storyteller who spins yarns with his songs that are derived from the original style of the legendary Miramichi songwriters and storytellers from the time of the lumber camps – with a toe-­‐tapping tempo.
This much-­‐awaited third album showcases a wealth of Miramichi musicians, several of whom appeared on Steve's first recording in 1982 as well as the recording released in 2012.
In true Steve Heckbert fashion, the release of Road to Canada will highlight the Shadbangers Ball II – Old Home Night – a mid-­‐summer showcase of lively, original Miramichi music. The event will be an evening of rekindled friendships, wicked humour, and great music that will feature Steve and the 2013 Shadbangers, performing songs from the new recording, and favourites from Top Down.
The plan is to have this festive event recur each summer as a fun focus for resident and homecoming Miramichiers. With an abundant songbook of new tunes written over the past 30 years, Steve is launching Road to Canada as the second of a trilogy of new recording projects that are planned for the coming 2-­‐3 years.
For more information, check out www.steveheckbert.com.
This year the ticket price includes a free copy of the new double CD Road to Canada or a copy of Top Down. The CD's will be available for pickup on the night of the release only.
Tickets for the Shadbangers Ball are $25.00 each and available at: Saltwater Sounds and N & J Convenience.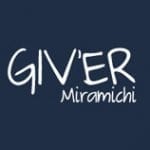 Giv'er Miramichi is about "What's up, what's new, what's happening". We are focused on building people up, supporting one another and celebrating our successes.
Miramichi's Steve Heckbert will release his new CD,