Fall Back into a Healthy Routine
by Margaret Young, RD, MSc
Sobeys Registered Dietitian
Fall is often thought of as a "new year". It marks the end of summer and the start of routine. This feeling isn't just for those who are going back to school after a summer off. Fall is a great time for both children and adults to make positive changes to improve their health.
Pack a Powerful Snack
Small snacks give you energy and may also prevent you from eating too much at your next meal. Healthy snacks are especially important for children. They will help keep your child alert and provide energy to learn and play.
Choose snacks that count as servings from the food groups in Canada's Food Guide. A copy of Canada's Food Guide can be found at Health Canada (

www.hc-sc.gc.ca

).

Prepare snacks from one or two food groups. You may not need full servings.

Put snacks on your grocery list so you have healthy items on hand.

Limit snacks that are high in calories, fat, or sugar. Give as treats on special occasions only.

Help your child decide which snacks are the best choices at the canteen or cafeteria.
Make it easy for your family to choose healthy snacks. Plan ahead and do some of the work ahead of time (cut up vegetables or bake muffins, etc.). Do this on a day when you have more time.
Here are some healthy snack options:
Vegetables and dip

Dry cereal mixed with raisins, mini chocolate chips and sunflower seeds

Small muffin and an apple

Light or air popped popcorn

Plain granola bar and a peach

Cut up melon and cheese

Whole wheat pita and hummus
Lunch Box Basics
For many families, the cooler days of fall mean back to school and the return of school lunches.
Pack healthy lunches for your child. Include foods from at least three food groups from Canada's Food Guide.

Involve your children (ask them what they'd like, get them to help). They will be more likely to eat their lunches.

Use an ice pack or frozen water bottle to keep foods cold.

Make foods easy to eat. Peel oranges, cut up sandwiches or give bite sized foods.
Healthy Lunch Bag Ideas
The following ideas have foods from at least three of the four food groups. Send portions your child will eat.
Whole grain crackers, Hard cheese (Cheddar, Swiss, marble), Grapes & Juice box (100% fruit juice)

Bran muffin, Greek yogurt, Vegetable sticks & Water

Chicken salad in a whole wheat pita, Apple, Oatmeal cookie & Water

Mini pizza (½ whole wheat English muffin, meat, grated vegetables and cheese. Send sauce in a separate dish for child to make at school), Orange & Milk

Pasta salad (Noodles, veggies, leftover meat and salad dressing), Canned pears & Yogurt drink.
To find out about the free nutrition classes Margaret offers at Sobeys, call (506)778-2404 or email . Be sure to like Sobeys Dietitians on Facebook for healthy recipes and nutrition tips!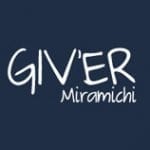 Giv'er Miramichi is about "What's up, what's new, what's happening". We are focused on building people up, supporting one another and celebrating our successes.