Miramichi Fishing Report for Thursday, October 24, 2013
We are down to the last few days on the Bartibog, Burnt Church and Tabusintac Rivers which close October 29.  Then it is official.  The angling season for the Miramichi is over for another year.  So enjoy the final few days "on the water".
Looking back on the season, Derek Munn of Ledges Inn in Doaktown and Mountain Channel in the Rapids area said:
Well another year has come and gone. It just seemed like yesterday I was hooking my first salmon away back in June. As we all know the year kicked off to a great start and then we went from low water and the closing of some cold water pools to high water for over 2 months. Over all we had a fair year but it was frustrating dealing with high water. I think there are more fish in the system then what numbers show as we were seeing tons of fish the last couple weeks and hooked a fair numbers as well. Until next season.
Tight Lines!
Derek
Don't forget to show your support for our sponsors, because without them, this column would not be possible.
Visit Deals 4 U in Miramichi for your grocery needs, and good Cuban cigars to celebrate getting back to the rivers.
Providing quality gear for the outdoor enthusiast all year round, Pronature in Miramichi has you covered. Stop in to check out their rods, reels, tackle and gear.
Fishing Packages are available at the newly renovated Days Inn in Miramichi, located in the heart of downtown Miramichi, just steps from the mighty Miramichi River.
ANY FINANCIAL CONTRIBUTIONS TOWARD HELPING WITH THIS COLUMN ARE GREATLY APPRECIATED. Click here to donate now.  A SPECIAL THANKS to all who made contributions.
Thought for the Week: "More than half the intense enjoyment of fly-fishing is derived from the beautiful surroundings, the satisfaction felt from being in the open air, the new lease of life secured thereby, and the many, many pleasant recollections of all one has seen, heard and done." – Charles F. Orvis
Congratulations are in order for Debbie Norton who is one of the three finalists in the Second Annual Women of Influence Night.  Norton is one of the three nominees for the "Female Entrepreneur of the Year".  The award is designed to applaud Miramichi area women for their accomplishments in both career and personal lives.
Click here to view the FINAL BARRIER COUNTS for the season.
FROM MSA:
Hi All
The barriers saw a large number of fish moving in during the week of October 7th to 13th. The Northwest barrier had a total of 480 salmon on site (230 grilse and 250 salmon) – up from 414 the previous week. This compares to 347 fish (206 grilse and 141 salmon) the same time last year.
The Dungarvon Barrier held 514 fish (238 grilse and 276 salmon) on October 13th – up from 481 the previous week. In comparison, the same time last year saw 275 fish – 157 grilse and 118 salmon.
The Millerton and Cassilis traps did not produce big numbers this week with only one or two fish per day – mostly salmon – and the Cassilis trap had a few spent fish as well.
The second annual "Jody Harrison Memorial Fall Salmon Classic" on the Little Southwest Miramichi was held from October 3rd to 6th, 2013 at the Otter Brook Salmon Club. Chris Barnett, Shawn Dickson, Geoff Barnett, Greg MacDonald, Jason Currie, Derrick Bathurst, Marc Thebeau and Richard Cormier raised $180.00 which they donated to the MSA Northwest Miramichi Smolt Study. The winner of the "Lunker" award for largest fish went to Shawn Dickson. Jody Harrison was a co-owner of a fishing camp on the Little Southwest Miramichi. On Oct 22, 2011 he lost his life in an ATV accident. Like his friends, Jody was a big supporter of the MSA and salmon conservation in general. In honor of Jody, his friends began the Jody Harrison Memorial Fall Salmon Classic. As part of the event they ask for a small donation from everybody that spends time fishing at the camp on the weekend. The money they raised has been donated to the MSA in memory of Jody and we thank them for making us part of their memorial.
The staff has been busy collecting broodstock over the last couple of weeks – the water levels have not been cooperating but we persevere. Mark starts checking fish around the 11th of October each year to see if they are ready to spawn – this year he expected 2 or 3 to be ready as usual. To our surprise 14 of the 16 females collected on the Northwest were ready to go on the 11th as were half of the Rocky Brook fish we collected. This week the remainder of those fish were spawned as were fish from Burnt Hill and Clearwater. We still have fish on site waiting so if you have a chance to visit the hatchery please do – please call ahead to see if we are spawning that morning.
Beaver dam breaching was in full swing this week. After identification and mapping of the dams, crews began breaching the weekend of October 12th. The MSA program for beaver dam breaching is to create a hole in the dam to let salmon move upstream and the beavers usually have it repaired within 2 days. We are not too concerned about the salmon moving downstream as they will wait in the beaver pond after spawning until a freshet tops the dam and they can move downward. We are not targeting small brooks, only the ones that have traditional salmon populations like Porter Brook, Big Hole Brook, etc. From our past work, Porter Brook and Betts Mill Brook had virtually no juvenile salmon in the middle reaches of the brooks. By temporarily breaching the beaver dams over the past few years, we now have good populations of salmon and brook trout in these streams. Crews worked on the Northwest, Cains and Southwest Miramichi this past week and will continue this weekend on the Sevogle, Northwest, Little Southwest, and tributaries of the Southwest.  I have attached before and after photos of one of eleven dams breached on the Mill Stream – they had their work cut out for them. As we can no longer use dynamite to take out the dams the best tool has been the potato hack and bare hands – this dam took 2.5 hours to go from before to after.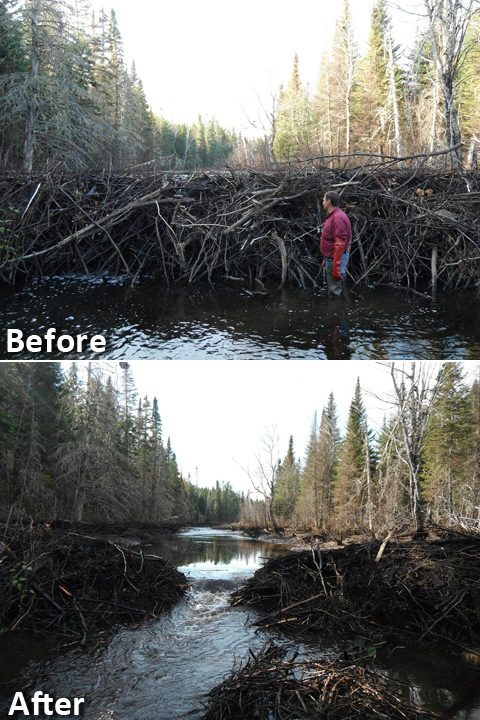 We have received some information on the kelt tagging that we did this spring – I have put a report on our web site – go to Kelt Tracking Update to read how things are progressing.
I would like to remind you of two upcoming events:
The 12th Annual Autumn Run Dinner is being held on October 29th at the Royal Ballroom of the Delta Brunswick Hotel in Saint John NB. This is a joint dinner between the MSA and the Atlantic Salmon Federation. Lino Celeste is the Honorary Chairman for the evening. Lino has served as the Chief Executive Officer and President of NBTel and as President and Chief Executive Officer of the New Brunswick Telephone Company Limited. In addition to being an avid salmon angler and conservationist, Lino has extended his energies to many local charities and foundations including the St. Joseph's Hospital Board, the Saint John Board of Trade, The Saint John Community Foundation and the Saint John Antipoverty Group. He has also sat on, or chaired numerous prominent boards across Canada.  The salmon community is fortunate to count him as a friend. For a look at some of the trips being auctioned off at the dinner please visit our site at Saint John Dinner.
"60 on 60" – A celebration of MSA's 60th Anniversary and Mark Hambrook Roast.
This event will be held on Saturday November 16th, 2013 at the Renous Rec Centre. The Reception and Silent Auction will begin at 5:30 and dinner will be at 7:00pm followed by a Live Auction. Entertainment will include musical guests and a roast of MSA President (and Renous native) Mark Hambrook. Please mark this date on your calendar as it is sure to be a fun evening. Tickets are $40 each or two tickets for $60.
For tickets TO either event please call Jo-Anne at 506.457.2220 or myself at 506.622.4000.
Have a great weekend!
Yours in conservation;
Nola Chiasson / Membership Programs Coordinator / Miramichi Salmon Association
Atlantic Salmon Federation News
Friday, October 18, 2013
RIVERNOTES UPDATE – The leaves on the trees, the salmon in the river
~~~~~~~~~~~~~~~~~~~~~~~~~~~~~~~~~~~~~~~~~~~~~~~~
ASF RIVERNOTES Blog has been updated with the latest numbers, and anecdotes of the angling season finale. Read more
http://atlanticsalmonfederation.org/rivernotes/
ASF REASEARCH Blog  – What species are using the fishway this fall? Read and find out.
http://asf.ca/research-in-the-field.html
Farmed Salmon Escapees in Alarming Numbers
~~~~~~~~~~~~~~~~~~~~~~~~~~~~~~~~~~~~~~~~~~~~~~~~
More than 80 escapees have been counted at the ASF-run fishway of the Magaguadavic River in southwest New Brunswick. This is raising alarms, as undoubtedly they are entering other rivers along the Bay of Fundy and Maine coasts.
http://asf.ca/escaped-farmed-salmon-found-in-large-numbers-in-nb-rivers.html
VIDEO – The Great Escape
ASF's Jonathan Carr shows viewers the situation arising at the Magaguadavic fishway.
http://asf.ca/the-great-salmon-escape.html
More than $33 MILLION Compensation to NL Salmon Growers
~~~~~~~~~~~~~~~~~~~~~~~~~~~~~~~~~~~~~~~~~~~~~~~~
In the past year more than $33,000,000 of taxpayer money has gone to two salmon growing companies in Newfoundland. Read full details
http://asf.ca/more-than-33m-compensation-paid-in-nl-for-salmon-farm-error.html
The Downside of Eating Farmed Salmon
~~~~~~~~~~~~~~~~~~~~~~~~~~~~~~~~~~~~~~~~~~~~~~~~
An opinion column raises some interesting points about consumers buying farmed salmon. Read more:
http://asf.ca/we-are-what-we-eat-the-hidden-cost-of-eating-farmed-salmon.html
31st Annual ASF New York Dinner
On Line Bidding Available November 1st!
We are pleased to offer the NEW YORK DINNER auction items on line.  Visit ibidmobile.net/asf  on or after November 1st to bid on the Silent Auction items and preview our Live Auction.
This auction includes everything from an exclusive golf outing with a celebrity golfer at his club, premium fishing experiences on the Gaula River, the Ponoi River and throughout the world, and a black lab puppy!
We'll also have available a state of the art selection of fishing rods, reels and fun non fishing items too.
All auction purchases help support the critical conservation efforts of ASF and our affiliates.
Items are in high demand – so don't miss the launch on November 1st.
Seating is limited at this event – contact ASF to secure your spot.
Atlantic Salmon Federation 1-800-565-5666 |
Fax: 506-529-1070  |  Email:
E-MAIL:
Hope you enjoy this one:  http://theriverscourse.blogspot.com/2013/10/making-simple-single-fly-display.html
In the next couple days I'll be posting about the great cast and blast trip to New Brunswick I had last week, too!
All the best,
Gary Tanner
—————————————–
Until next week
TIGHT LINES
DOUG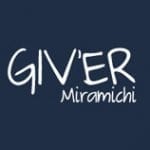 Giv'er Miramichi is about "What's up, what's new, what's happening". We are focused on building people up, supporting one another and celebrating our successes.