12th Miramichi Christmas Turkey Drive
The 12th Miramichi Christmas Turkey Drive needs 34 more turkeys than it did last year. The coordinators of the Christmas Hampers have identified a requirement for 197 turkeys for the 2013 holiday dinner.
For the second year, the collection will be done by Mary Richardson, owner of Tiny Treasure Chest.
"It is a great opportunity to give back to the community. Last year was my first year of involvement and I appreciated the guidance provided by the 10 years experience offered by Mavis Williamson. I know she is still involved behind the scenes," Mary says. "Last year we thought we may not make the numbers and in the last day, we were successful in acquiring 176 turkeys, the requirement was 163. No turkey is wasted and extras are distributed within the community to various organizations. It all goes back into our local community."
Richardson hopes they will be that successful again this year as the many coordinators of the Christmas hampers appreciate the kindness.
Frozen turkeys can be dropped off at Tiny Treasure Chest, 1750 Water Street or the Great Canadian Dollar Store, 1746 Water Street.
"I am pleased be part of this incentive to help out the Christmas Hampers, and we will pleased to accept frozen turkeys for Christmas Dinners," says Mark Kane of the Great Canadian Dollar.
If a person is unable to physically drop off a frozen turkey, they can forward a donation to Christmas Turkey Drive C/O Tiny Treasure Chest,1750 Water Street, Miramichi NB, E1N 1B5 or drop monetary donations off at the store. Cheques should be made out to the "Christmas Turkey Drive". All funds generated will go directly to the purchase of a turkey.
Richardson feels this is great way to show Christmas spirit and hopes that the public, businesses, and organizations will endorse this worthwhile project for the 12th year. The Tiny Treasure Chest store will be posting a running total of the number of turkeys collected. For more information about this year's Turkey Drive please call (506) 622-4079. The drive starts December 2nd and runs until December 13th.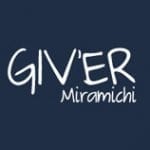 Giv'er Miramichi is about "What's up, what's new, what's happening". We are focused on building people up, supporting one another and celebrating our successes.