If you saw someone broke down on the side of a dark unlit road, would you stop to help? If you were broke down and somebody stopped, would you take the time to write a thank you note? In this day and age human kindness can be difficult to find and acknowledgement even more elusive, but earlier this week, Randy Urquhart, owner of Miramichi Honda, received this kind email about one of his staff, Gary Sturgeon.
Good Evening Mr. Urquhart,
If I can take two minutes of your time to tell you about Gary Sturgeon.
On my way to a hockey tournament in Fredericton tonight I had the unpleasant experience of a flat tire. Not obvious when you are 'not mechanically inclined', stranded on the side of the road on a dark and rainy night with four young hockey players.
Mr. Sturgeon pulled up with his vehicle and basically put his life in danger on a dark and unlit road to help a perfect stranger. Without his help I might still be there.
He made sure that we doubled checked the lug nuts and made sure that I knew that if there was any vibration to pull over. He helped me put our bags back into the vehicle. He even waited to make sure that my vehicle started, WOW!
Because of his generosity we arrived to our destination safely and my four hockey players are sound asleep.
I can say that this man must truly be an asset to your company and I cannot thank him enough. His kindness will go a long way in customer service.
Please feel free to share this email in any way to promote the generosity of this fine gentleman.
Kind regards
Roland LeBlanc
Head coach
Restigouche Redwings
Great job, Gary! And hats off to Mr. LeBlanc for taking the time to write a note of acknowledgement!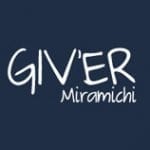 Giv'er Miramichi is about "What's up, what's new, what's happening". We are focused on building people up, supporting one another and celebrating our successes.