Employee of the Month: D'Arcy Matchett
We're finding valued local employees who really GIV'ER and contribute to the community, in spite of their disability. Introducing D'Arcy Matchett:
Medical Condition: Chron's and Ankylosing Spondilitus
Education & Work Experience: Journeyman "Red Seal" cook, NBCC Moncton; Criminal Justice Program (Honours), NBCC Miramichi
Current Job: Department of Public Safety at the New Brunswick Youth Care Centre
First Job: Merv's Catering Fredericton (cook)
Favourite Job: Theriault's Bistro (Moncton), because of their "Healthy Choice" menu
If I Could Do One Job Until Retirement, It Would Be: To have my own catering business, out of my own restaurant. I would make a conscious effort to buy locally grown products.
Work Philosophy: People can scrape by day to day and do their jobs, but the way I was raised as a child I had so many relatives being great examples as to what can be done with just hard work and the right approach towards work. I do not want to be a burden to society and say poor me. I come from a family of non-quitters. My grandfather, Omer Matchett, lost part of his leg during World War 2 but still was able to raise eight children and be a respected community member. Strength comes form having no other choice but to carry on the best you can, with what you have, or have been dealt with.
One Chef from France adjusted my work attitude one time while working at the Keltic Lodge in Ingonish, Cape Breton. He said to me, "If I wanted your opinion, I would ask for it." That night after work it hit me that maybe I had to re-adjust my attitude and be more reserved. This was a major change for me.
People with challenges just want to be like any other member of society. With the right attitude and being able to admit to mistakes (and we all make them), people who have disabilities can be successful members to the Province's work force. I would like to challenge others who have hurdles in their lives, to rise to the challenge of getting a job, even part-time, or explore going back to school to get new training. Trust me in saying that it will be scary and different, but so rewarding in the long run.
Every one has their own path in life and the choice to take it or not. What road are you going to take?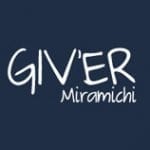 Giv'er Miramichi is about "What's up, what's new, what's happening". We are focused on building people up, supporting one another and celebrating our successes.