Hospice Miramichi hosts the 3rd Annual "A Taste of Chocolate" in February
Hospice Miramichi will be presenting the 3rd Annual "A Taste of Chocolate" Saturday, February 8th as part of the Miramichi White Gold Festival. This year's event, once again held at The Rodd Miramichi River – A Rodd Signature Hotel, will feature world acclaimed humorist, author and storyteller Nils Ling. Tickets for the event at $30 each and are available at The Hospice Shoppe – 1733 Water Street, Miramichi Meat 1189 King George Hwy., and Saltwater Sounds 1738 Water Street.
Nils Ling is an author, playwright, actor, filmmaker, and a nationally syndicated newspaper columnist who lives in Breadalbane, Prince Edward Island. His one act plays and musical productions have been acclaimed around the world and consistently played to SOLD OUT audiences.
"Tickets for this event are expected to sell out early," says Connie Doucet, Executive Director of Hospice Miramichi. "Nils is an amazing story teller and entertainer… you never know what to expect. So you pair this kind of quality entertainment with the great taste of chocolate, and I don't know who doesn't love chocolate, and we feel it will be a great evening."
Once again the event will feature decadent chocolate for everyone's enjoyment and this year, added to the value of the event ticket, is a chance to win a fabulous door prize! There will also be a 50/50 draw during the evening and an opportunity to purchase tickets for the "arms-length auction" during the ever-popular auction.
This year's sponsors for the vent are, The Rodd Miramichi River and MRP Inc.
Hospice Miramichi Inc. is a non-profit organization established in Miramichi in 2011 with the goal of providing hospice palliative care service to the community in 3 stages. First, a Community Outreach Program, which began in the early spring of 2013; Second, a Hospice Day Program, which will be featured in the spring of 2014 and third, a full residential hospice facility which the organization hopes to have operational within the next 4 years, at its location at 14 Howard St.
For more information on Hospice Miramichi visit www.HospiceMiramichi.com
For more information concerning A Taste of Chocolate contact: Connie Doucet, Executive Director Hospice Miramichi (506) 773 773-7607 or Miramichi River Productions Inc. Paul McGraw (506) 627-9513.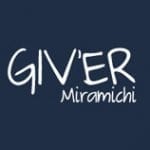 Giv'er Miramichi is about "What's up, what's new, what's happening". We are focused on building people up, supporting one another and celebrating our successes.