February is Heart Health Month
New Brunswickers are encouraged to observe Heart Month by taking steps to lower their risk of developing heart-related illnesses.
"Each February, Heart Month is recognized across Canada," said Health Minister Hugh Flemming. "It is an initiative organized by the Canadian Heart and Stroke Foundation to raise awareness of heart disease and stroke, while providing an opportunity for people to get involved in community-based fundraising events."
"Heart Month provides New Brunswickers with an excellent opportunity to educate themselves about actions they can take to protect their heart health and for communities to consider how they can promote healthier living," said Flemming.
The following steps can be taken to minimize the risk of cardiovascular disease and poor heart health:
● maintain a healthy weight;
● be physically active;
● avoid excessive alcohol consumption;
● manage stress effectively;
● avoid foods that are high in fat and sodium;
● maintain normal blood pressure and normal cholesterol levels; and
● avoid smoking.
Last fall the Chief Medical Officer of Health released The State of Public Health in New Brunswick 2013: Heart Health report which provided an overview of heart disease in the province and discussed a comprehensive approach to heart health. It is estimated that 2,670 New Brunswickers were diagnosed with ischemic heart disease in 2009-10 and that about 21,800 men and 13,400 women, in the province, are living with the disease.
"Heart disease is one of the leading causes of death in New Brunswick and is among the most costly to the health-care system," said Flemming. "I encourage all New Brunswickers to do what they can to ensure their hearts are healthy."
For more information visit the Heart and Stroke Foundation website.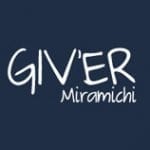 Giv'er Miramichi is about "What's up, what's new, what's happening". We are focused on building people up, supporting one another and celebrating our successes.