Miramichi Cross Country Ski Club Plans for Year-round Activity Centre
The Miramichi Cross Country Ski Club (MCCSC) wants to upgrade its facilities and program to become a year-round outdoor activity centre for people of all ages, that could host events such as cross-country running, mountain biking, Tough Mudder style events, and much more. With an emphasis on children and families this type of year round facility will be able to offer a wide variety of outdoor physical activities for school children, families and seniors. Recently the club presented its plans in the city's recreation planning consultation meetings and report.
The club has recognized three "must have" items required to maintain a viable operation:
Outdoor Activity Centre: The present clubhouse needs to be replaced. While the clubhouse has character and is appreciated by its users, it has deteriorated to the point where the floor is rotting.
Biathlon Range: The increasing popularity of Biathlon makes it a natural program to be developed. MCCSC members are presently participating in Biathlon with two of their youth having been selected for the NB team participating in the 2011 Canada Winter Games.
Trails and Access to Venue: If they are to expand programs and activities, trail maintenance and grooming is essential. The club intends to build up and upgrade some of its trails to accommodate their Pisten Bully trail groomer. Parking and access to their venue is a problem. Improvements to the parking lot including spreading of shale and gravel are in order to provide year round access to the club.
With new facilities, it is projected that operational costs will be higher. Nonetheless, the anticipated expansion of existing and new programs and larger facilities will allow the Club to offset these increases. With the assistance of government for capital cost and support from the community in program delivery, they believe this project is feasible for MCCSC and the Miramichi.
The capital portion of the project is the largest single expenditure. Volunteer organizations such as the MCCSC need support at all levels of governments in order to accomplish their vision and meet the needs of their membership.
The MCCSC believe their proposal is an integral part of the economic viability of the Miramichi area. Quality of life and recreational opportunity go together. The Project Planning Committee is confident that the projected capital cost will be obtained from all levels of government.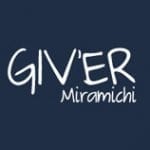 Giv'er Miramichi is about "What's up, what's new, what's happening". We are focused on building people up, supporting one another and celebrating our successes.