Miramichi Idol Week 6 – Second Chance Night

Please Note: Unfortunately, there is no video this week, the audio was corrupted in the files and there was only noise. We will have video next week.
Here is a breakdown and some pictures from the evening:
The evening started with Performances by the Second Chance Hopefuls:
| | |
| --- | --- |
| Performer | Song |
| | Rock This Country – Shania TwainHero – Bonnie TylerHolding out for a Hero – Bonnie Tyler |
| | Rolling in the Deep – AdeleHurt – Christina AguileraWings – Little Mix |
| | Yardsale – Sammy KershawLoves Gonna Live Here – Buck OwensCrying My Heart Out Over You – Ricky Skaggs |
| | The Dance – Garth BrooksWhat A Wonderful World – Louis ArmstrongThe Devil Went Down to Georgia – Charlie Daniels Band |
After deliberations the judges chose Kiyah Ewers and Tony Russell to re-enter the competition! Congratulations!
Following the announcement, Susanne Saulnier received a surprise birthday bouquet, cake and song. Happy Birthday Susanne!
The winner of the popular vote, earning the right to sing first was Lacey Howe!
As usual the order of the remainder of the singers was random.
Performer

Songs

Honey I'm Home – Shania Twain
Grenade – Bruno Mars
Not Ready To Make Nice – Dixie Chicks
Kerosene – Miranda Lambert
Tequila Makes Her Clothes Fall Off – Joe Nichols (Guitar)
How I Got To Be This Way – Justin Moore
The First Cut Is The Deepest – Sheryl Crow
To Be with You – Mr Big
Mama, I'm A Big Girl Now – Hairspray
Get It Right – Glee
I Honestly Love You – Olivia Newton John
Queen of Hearts – Juice Newton

Little White Church – Little Big Town
She's In Love With The Boy – Trisha Yearwood
Wind Beneath My Wings – Bette Midler
Flashdance What A Feeling – Irene Cara
Look What They've Done To My Song Ma – Melanie Safka
Strong Enough To Bend – Tanya Tucker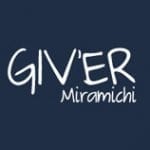 Giv'er Miramichi is about "What's up, what's new, what's happening". We are focused on building people up, supporting one another and celebrating our successes.