Blackville to Host Two Award Winning Performers in May
In support of Hunger Awareness Week, The Greater Blackville Resource Centre (GBRC) has a week of events planned including concerts by two award winning folk singer-songwriters – ECMA Winner Catherine MacLellan on May 5th, and Juno Award winner Stephen Fearing on May 9th.
Benefit Concert featuring
ECMA Award Winning Singer/Songwriter, Catherine MacLellan
When: Monday May 5, 7pm
Where: St. Andrew's United Church Centre
Admission: $20
We are pleased to welcome folk singer-songwriter Catherine MacLellan to kick-off the Hunger Awareness Week activities. This benefit concert will also include a live auction to raise funds for the Blackville Food Bank. A canteen will be onsite. Chris Gauthier will provide guitar accompaniment when the duo take the stage at the United Church Centre. Catherine and Chris recently completed a tour of select venues in Ontario and Quebec in support of their upcoming CD release. The Raven's Sun will be Catherine's fifth studio album. This is a wonderful opportunity to see a seasoned professional, who has toured internationally, in an intimate setting. Catherine was the 2010 ECMA winner for Female Solo Recording of the Year, and for Folk Recording of the Year. For more videos, photos and info visit her website www.catherinemaclellan.com.
Watch Catherine MacLellan – Stealin
General admission tickets for the event are $20, available from Ken MacIntosh (843-7872, or ).
Jumpin' Fishes Gala Salmon Dinner
Featuring Juno Award winning Folk Musician, Stephen Fearing
When: Friday, May 9, 7pm
Where: St. Andrew's United Church Centre, Blackville
Admission: $30/person
The evening will feature a gourmet meal of fresh Atlantic Salmon, and music by Juno award winning folk musician, Stephen
Fearing. Stephen Fearing is a veteran of eight solo albums in addition to releases as half of the duo Fearing and White, and another eight albums with Blackie and the Rodeo Kings. He has won Juno awards for solo album Yellowjacket and for Kings of Love, with Blackie and the Rodeo Kings. Stephen winds up a tour of western Canada later in April, just in time for his appearance in Blackville. He has made a special effort to support this event, so please don't miss this incredible opportunity to enjoy outstanding Canadian music! Visit his website www.stephenfearing.com for videos and more information and also www.fearingandwhite.com.
Dinner: Poached Atlantic Salmon served with Dauphinoise Potatoes and sautéed greens. Tarte Tatin with Vanilla Cream for dessert. Vegetarian Option: (must be specified when ordering ticket) Portabella Mushrooms stuffed with Leeks and Cashews Topped with Shaved Fresh Parmesan served with Dauphinoise Potatoes and sautéed Greens.
Tickets for the evening are $30 and can be purchased by contacting Ken MacIntosh at 843-7872 (or ).
Stephen Fearing Performing These Golden Days

Other events taking place during Hunger Awareness Week in Blackville
Tuesday, May 6, 11:30am
Soup's On Free Community Lunch – Everyone Welcome
Also tour the food bank, thrift store, and pick something up at our bake sale!
Where: Greater Blackville Resource Centre
12073 Route 8, Upper Blackville
Wednesday, May 7, 11:30am
Soup's On Free Community Lunch – Everyone Welcome
with special guest Executive Chef Greg Godfrey of the Delta Fredericton
Where: St. Andrew's United Church Centre, Main st. Blackville
Thursday, May 8
Take part in the Give it up for Hunger Challenge
skip your lunch and donate the cost in cash or in non-perishable food items to the Food Bank!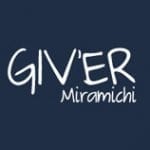 Giv'er Miramichi is about "What's up, what's new, what's happening". We are focused on building people up, supporting one another and celebrating our successes.