Celebrate Canada & Support Fireworks Display
Today Downtowns Miramichi launched a new website, www.CanadaDays.com, with all the information about the Celebrate Canada events schedule for 2014.
"A fireworks display as part of our Celebration of Canada is essential," says Mavis Williamson, General Manager of Downtowns Miramichi. "Fireworks are one of the awesome moments in any Canada Day celebrations. They attract all ages to enjoy the splendour and thrill of colours exploding in the night sky. If this event is not hosted within our city, it will be missed. The Station 1 Volunteer Fire Department and Downtowns Miramichi are working together to create an awesome show and we would like to ask for the public's financial support for this event."
The fireworks are scheduled for June 30th on the waterfront in the Downtowns Miramichi – Newcastle Business District, starting at 10:30 pm.
Individuals, corporations and organizations are invited to contribute to the overall cost of the Celebrate Canada Fireworks online through the new website at www.CanadaDays.com or cheques can be forwarded to the Newcastle Business District at PO Box 12, Miramichi NB E1V 3M2. All donations are greatly appreciated and will be applied to the display.
"We have launched a fantastic website through Mighty Miramichi listing all the activities happening within our 10 days of celebration," Mavis says. "CanadaDays.com is the place to receive the latest updates on events, registration forms and more."
The celebration begins on June 28th in the Historic Chatham Business District with live music, a doll and bicycle parade and a country themed street dance in the evening and continues on June 30th with the Celebrate Canada Fireworks display.
"The show, of course, is dependent upon funds received, and we have provided an opportunity for everyone to contribute through our website," Mavis says.
July 1st is the Official Flag Raising ceremony and Birthday cake sponsored by Mayor and Council, the Canada Day parade sponsored by the Station 1 Volunteer Fire Department and Miramichi Jaycees. On July 5th, the Newcastle Business District will host a vintage car show and shine with live music and entertainment and the Miramichi River Cruise will take place in the early evening.
Visit www.CanadaDays.com for information on all these events and others happening during this wonderful 10 days of celebration kicking off a fun summer in Downtowns Miramichi!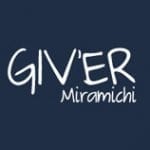 Giv'er Miramichi is about "What's up, what's new, what's happening". We are focused on building people up, supporting one another and celebrating our successes.