Employee of the Month: Kenneth Blacquier
We're finding valued local employees who really GIV'ER and contribute to the community. Introducing Kenneth Blacquier:
Education: Graduate of James M Hill (1989); NBCC Carpentry Program (1990); Multimedia Arts Program (1992); Patient Care, Academy of Learning (2008)
First Job: Carpenter's Helper at 14 years old
Current Job: Patient Care Attendant (Region 7 Hospital)
Other Jobs Include: Hostess/ Frito-Lay; Atcon Construction as a labourer and later on, in the Technology Department
If you could chose one job to do until retirement, what would it be? "The one I'm doing now. It's the perfect job for me. I enjoy helping people in need."
Work Philosophy: When it comes to Kenneth's philosophy toward work he sums it up in two words— "My father." His father was very hard working and set a solid example for his son to follow.
Do you know a hard working, loyal, honest employee who really knows how to GIV'ER at work? Send your nominations for Employee of the Month to . Include the nominee's name, workplace and contact information as well as the reason why you think they should be recognized as Giv'er Miramichi's Employee of the Month.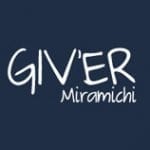 Giv'er Miramichi is about "What's up, what's new, what's happening". We are focused on building people up, supporting one another and celebrating our successes.