Miramichi Fishing Report for Thursday, May 29, 2014
It is the "in-between" season now.  Spring salmon are pretty well gone, There are only scattered reports of bright trout, although the time of year is right on a normal year, and bright salmon should be imminent.
Striped Bass retention is over until August, but anglers are still able to fish for them with a hook 'n release policy.  DFO's four day extension with two a day last week was much appreciated by anglers, so points to them for a nice first step.

Doug White's Tammerack Sports Fly Shop in Juniper said the water is still high and nobody is fishing yet.
W. W. Doak and Sons in Doaktown said angling for spring salmon was pretty well over, and there were no bright salmon yet.  Anglers were picking up a few trout with a very few bright sea trout among them.  This is normally the time for the sea trout run, but the season has been slow starting, so the only way to be sure is to be on the river.  The water was high, but dropping, aand warmer temperatures for the weekend should improve fishing.  Fiddleheads are about in peak season.
Flies of choice were Muddlers, Woolly Buggers, Butterflies and White-tailed Green Machines.
Derek Munn of Ledges Inn in Doaktown and Mountain Channel in the Rapids area said they travelled down the Douglaston wharf last Wednesday for striped bass, but didn't have much luck so they went back close to Strawberry Marsh and had great fishing until dark. He was also down on Saturday and Sunday evenings had unreal fishing catching most of them on the fly. The water is till up good in the Doaktown area most of the spring salmon are gone in this area.  There were no reports of sea trout or Rocky Brook salmon yet. With the height of the water Munn was  sure there were a few bright salmon sneaking by. Their private trout lakes are open for business if anyone is interested.  Contact Derek Munn at Ledges.(506)365- 1820.
Flies of choice were Muddler Minnows.
Herb Barry Sr. of Herb's Fly Shop on the Station Road in Blackville said spring salmon fishing was basically finished and there were only scattered trout reports with the high majority being black trout.  There were no reports of bright salmon yet.  The water was high and cold, but starting to drop
Flies of choice were Muddlers and Humpies for trout.
Curtis Miramichi River Outfitting in Blackville said water conditions were high and cold, but starting to drop.  Spring salmon angling was over and there were only a few trout reports with most being black.
Flies of choice were Blue Smelts, Blue Elvers, Muddlers, Woolly Buggers, Mickey Finns and some Carter Bugs.
George Routledge of George's Fly Shop at the Mouth of Renous in Quarryville was unavailable for comment due to being in the hospital.  He was hoping to be home by week's end.  The water at Quarryville was high, but dropping.
Flies of choice were for the time of year would normally be Muddlers, Mickey Finns, big Butterflies and big Green Machines.
Jim Laws of Miramichi Hunting and Fishing in Newcastle, Miramichi reported angling was quiet for both spring salmon and brights.  Striped Bass fishing had been decent, but cold water has kept the season below its optimium.  He had heard no trout reports to speak of yet, but felt that the trout and bright salmon should begin to pick up soon.
Flies of choice were Muddlers and Woolly Buggers for trout and larger summer patterns for early salmon.
Syd Matchett of Trout Brook Fly Shop on the Northwest Miramichi said angling there was very quiet with spring salmon over and no reported brights as of yet.  There were only scattered trout report, but this week should improve conditions and see the start of bright salmon and trout.
Flies of choice were big Yellow Butterflies and big Green Machines on nos. 2 & 4 hooks.
Debbie Norton of Upper Oxbow Outdoor Adventures on the Little Southwest Miramichi said water conditions were high and cold.  Spring salmon angling was over and striped bass hook and release should be good for a while yet.  There were a few trout reported, but they were mostly black.  There were no bright salmon reported yet, but she would not be surprised that a few are sneaking through.  Canoeing conditions were good.
Flies of choice were Muddlers and big Butterflies and big Green Machines.
With May coming to an end, and some warmer weather there should soon be some bright salmon and sea trout on the way.  Don't forget to grab a few fiddleheads and get out and "on the water".

Don't forget to show your support for our sponsors, because without them, this column would not be possible.
Check out Deals 4 U in Miramichi for your grocery needs, and good Cuban cigars to celebrate getting back to the rivers.  Drop by Mac's Seafood for Miramichi Smoke House Award Winning Smoke Salmon.
ANY FINANCIAL CONTRIBUTIONS TOWARD HELPING WITH THIS COLUMN ARE GREATLY APPRECIATED. Click here to donate now. A SPECIAL THANKS to all who made contributions last season.
If you would like to sponsor this column, give us a call at (506) 352-7668 or email .
Thought for the Week: ""It is not how abundant nor how considerable our catch be, but rather to the sport, and manner in which our quarry, the noble trout is angled."-J.B. Martin
E-MAIL:
I have high hopes for this fly… hope you enjoy the notes on its construction:  http://theriverscourse.blogspot.com/2014/05/tanners-lbt-little-brown-trout.html
And hope you've had a safe and enjoyable Memorial Day Weekend.
Very best,
Gary Tanner
Until next week
TIGHT LINES
DOUG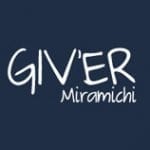 Giv'er Miramichi is about "What's up, what's new, what's happening". We are focused on building people up, supporting one another and celebrating our successes.