Miramichi Fishing Report for Thursday, June 12, 2014
Each week we are seeing more bright fish beginning to trickle into the system.  With good water conditions, and hopefully not too much rain on the weekend, there should be some decent angling possibilities.

Doug White's Tammerack Sports Fly Shop
in Juniper said the river is down to where it should be and there are a fair amount of sea-trout around so it should be pretty fair good fishing for a few days.   He didn't know how long the trout run would last or when the salmon will be here. I don't have the answers to these pressing questions but I do know the people catching trout are the ones out fishing and not complaining to me.
Flies of choice: Streamers, Bugs, Dries, Wooly buggers and Muddlers.
W. W. Doak and Sons in Doaktown said last weekend's rain raised the water considerably.  It came up four feet in Blackville and around two feet in the Doaktown area.  It has been dropping nicely this week in the Doaktown area, but is still a tad high down river.  They would not be surprised to have more good reports this weekend.  There have been a few reports of bright salmon here and there, but not very many yet.
Flies of choice were Butterflies, Undertakers, Same-Thing-Murrays and White-tailed Green Machines on no. 6 hooks in the Doaktown area, and no. 4s in Blackville.
Derek Munn of Ledges Inn in Doaktown and Mountain Channel in the Rapids area said the water there is a good height, and there have been odd reports of a few brights above Doaktown.  Munn picked up a bright salmon on the Northwest Miramichi last week before the rain and his friend got one after the rain.  The sea trout has gone by Doaktown with only the odd averaged sized trout being caught.
Flies of choice were Shady Ladies, White-tailed Green Machines, Dylan Speys and Green Butt Squirrel-tails.
Herb Barry Sr. of Herb's Fly Shop on the Station Road in Blackville said there was not much to report this week.  He had heard on no bright salmon and only the odd trout.  Basically, he said there was no serious fishing yet for the time of year.  The water was high, but dropping.  Hopefully catching would pick up for next week's report.
Flies of choice were White-tailed Green Machine for salmon and Royal Wulff for trout.
Curtis Miramichi River Outfitting in Blackville said there certainly had been a good raise in water, but it was dropping off nicely.  They had heard of a bright salmon in the Doaktown area and two in the Rapids area.  There was only the odd trout being reported, but anglers were hitting good numbers of striped bass in the Rapids area.  Canoeing conditions were great.
Flies of choice were White-tailed Green Machines, and Black Ghosts on no. 4 hooks.
George Routledge of George's Fly Shop at the Mouth of Renous in Quarryville said angling was pretty slow with very few anglers out.  The water was high, but gradually falling.  There was only the odd trout reported and no bright salmon that he had heard of .   After getting home from the hospital, George had a fall and hurt his back.  He will not be in his shop until the weekend.
Flies of choice were Shady Ladies, Green Machines, Black Ghosts and Muddlers on nos. 4 & 6 hooks.
Jim Laws of Miramichi Hunting and Fishing in Newcastle, Miramichi reported hearing of a few bright salmon, but certainly in no great numbers.  The striped bass were still spawning and there were still good numbers around.  Boats had to be careful of hitting them when they went through the spawning area.  Only the odd trout was reported.  The water was high, but dropping.
Flies of choice were Green Butt Bear Hairs, Green Machines and Black Ghosts on nos. 4 & 6 hooks.
Syd Matchett of Trout Brook Fly Shop on the Northwest Miramichi said fishing was quiet with only a few bright salmon being reported.  Jim Martin had hooked one last Thursday and there had been a couple more taken around the Loop.  There was only the odd trout report, but one youngster did nab an 18-incher as the sea trout had already gone by.  The water was high last weekend, but was dropping nicely.
Flies of choice were Yellow-winged Butterflies, Black Ghosts, Shady Ladies and White-tailed Green Machines on nos. 4 & 2 hooks last weekend. But they should be down to just no. 4s now.
Debbie Norton of Upper Oxbow Outdoor Adventures on the Little Southwest Miramichi said things have been slow and they hadn't been fishing for salmon in earnest yet.  Striped Bass angling had been good.  The water was high, but dropping.  She said there were no salmon reports to speak of, but felt that if there were salmon, they were high-tailing it right through in high water.  She had no trout reports.
Flies of choice were big Butterflies and White-tailed Green Machines on no. 4 hooks.
So make some time and get out and "on the water".

Don't forget to show your support for our sponsors, because without them, this column would not be possible.
Check out Deals 4 U in Miramichi for your grocery needs, and good Cuban cigars to celebrate getting back to the rivers.  Drop by Mac's Seafood for Miramichi Smoke House Award Winning Smoke Salmon.
ANY FINANCIAL CONTRIBUTIONS TOWARD HELPING WITH THIS COLUMN ARE GREATLY APPRECIATED. Click here to donate now. A SPECIAL THANKS to all who made contributions last season.
If you would like to sponsor this column, give us a call at (506) 352-7668 or email .
E-MAIL:
2014 Spring Auction
Father's Day Online Auction has some great gift ideas! Click the link to view and bid on items!
http://ibidmobile.net/asf/auction/index.php
Until next week
TIGHT LINES
DOUG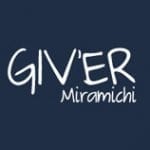 Giv'er Miramichi is about "What's up, what's new, what's happening". We are focused on building people up, supporting one another and celebrating our successes.