Backbeat Bohemian: Tara Jardine
Tara Jardine's family jokes that she should have been born 40 years earlier. That's because the 24 year old self-taught artist draws most of her inspiration from the music and movies of the 60's and 70's. She carries herself with a quiet confidence you mightn't expect from someone her age but her "old soul" is visible in her pretty sparkling eyes. She's a young woman who loves the pop culture of generations before she was born, like the film Breakfast at Tiffany's and the music of Bob Dylan and the Beatles.
Much of Tara's artwork features dark silhouettes of famous faces on colourful and textured backgrounds in her signature Bohemian style. She likes to play with paint and textures using sponges, soap, broken brushes and misshapen objects found around the house. Sometimes a piece will sit half finished for months before it "clicks" in her mind and comes together on the canvas.
Tara prefers abstract art over realism because she feels the abstract gives room for more possibilities.
"Every time you look at an abstract piece you see something different, and the experience is unique to each person viewing it," she says. "I like doing funky stuff."
Tara grew up in a family that was musically oriented.
"Some of them would come up from Moncton and I would hear all this great music," she says. "That's how I began to learn about the 60's style of music."
She also recalls watching an Austin Powers' movie and being drawn to the psychedelic colours and hippy styles.
Tara's love of art started in kindergarten. Raised in Renous, she attended Millerton Elementary and Blackville High School.
If her first love is art, Tara's second love would be travel. She loves to travel, from Montreal down through the Eastern seaboard of the United States and especially New York City, where she has gone several times. One of her favourite things to do in the Big Apple is to visit the Museum of Modern Art and see the works of Andy Warhol, Van Gogh and Monet. She also enjoys visiting Central Park and watching the artists who are always setup there, so she can observe their techniques and get inspiration.
"I travel a lot," Tara says. "I have plans to travel to Europe in the fall for a couple of weeks. I plan on doing the same thing there that I do in New York City—taking in all the architecture of old buildings, and trying not to be a tourist too much, discover some places away from the tourist attractions, to find future inspiration. I am now an international artist, some of my work has gone to Cape Breton, Nova Scotia and Chicago."
Tara's work is currently on exhibit and available for sale at the Water Street Gallery in historic downtown Chatham. For more information about Tara or to see photos of recent projects visit her Facebook page at www.facebook.com/backbeatbohemianart.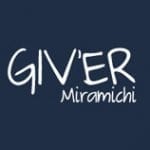 Giv'er Miramichi is about "What's up, what's new, what's happening". We are focused on building people up, supporting one another and celebrating our successes.