Big Changes at Kidplayhouse
By Glenn Copeland
Kidplayhouse Productions is now Kidplayhouse Productions Inc. — a not-for-profit corporation.
We have an expanded mandate that includes providing:
theatre arts education, theatrical performances and related theatre and performing arts activities for children, youth and adults
opportunities for participation in the performing arts for children and youth with special challenges, mental, physical and developmental
community programs that address social issues including, but not limited to, social inclusion, bullying issues, mental illness, poverty, inter-generational issues, and inter-cultural integration using the performing arts, and
classes, services and performing opportunities to those who otherwise could not afford to pay for them.
It's a big mandate, and we are very excited to begin programming for it. However, before we can add the programming for our special needs and challenges participants, we must first find a new studio that will allow ease of access (ground floor with ramp) specifically for those with physical challenges, including the elderly. In addition, the space must be large enough to conduct our theatrical and performing arts classes and activities, and permanently house all our equipment.
This is a tall order in our small town. We have found the ONLY SUITABLE studio large enough to house all our activities, all our theatre arts equipment, and already set up with wheelchair accessibility. The space is impeccable! But to lease it will require lots of money. We have one month to raise the the $53,000 in necessary funds. We are taking it to the general public with a crowd-funding campaign entitled Kidplayhouse 'Sky's the Limit' Studio Rent Funding. Visit www.indiegogo.com to donate. All monies donated will be used for rent and utilities only in this first year as we apply for charitable status.
As to our programs, the fall line-up looks like this:
Puppets and More! Ages 6 – 8 on Saturdays
Sept. 13 – Nov. 29, 11 weeks 10 am – 12 noon
Acting Up! Theatre Arts Ages 9 and up on Saturdays
Sept. 13 – Nov. 29, 11 weeks 1 – 4 pm
Curtains Up! The Christmas Play, Inter-generational on Thursdays
Sept. 18 – Dec. 4, 12 weeks 6:30 – 8:30 pm
plus a Saturday, Dec. 6th Performance
Acting Out! Adult Theatre Arts on Wednesdays
Sept. 17 – Dec. 3, 12 weeks 6:30 – 8:30 pm
The Sky's the Limit! Creative Play Drop-In for children with special challenges
Wednesday afternoons, 
exact time and starting date TBA
For pricing information please visit our website at www.kidplayhouseproductions.com or for regular updates please like our page on Facebook. Contact Glenn directly by email at and by phone at 778-8493.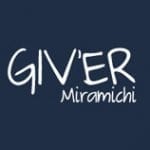 Giv'er Miramichi is about "What's up, what's new, what's happening". We are focused on building people up, supporting one another and celebrating our successes.