Tourism in Miramichi Region Piloting New Technology Initiatives
The Miramichi River Tourism Association (MRTA) will soon wrap up another summer season at the Visitor Information Centre on Highway 11. The season has so far seen a steady stream of tourists from around the world and marked the launch of a new mapping initiative that uses interactive touchscreen technology.
The new mapping platform uses the latest web technology in order to enhance the process of making recommendations to visitors. Earlier this summer, the tourism councillors who work at the Visitor Information Centre met with the owners of area attractions and accommodations to learn about their properties and then created itineraries for popular destinations in Miramichi.
"The councillors have done a phenomenal job in putting together itineraries," said Cindy Trevors, manager of MRTA. "They are the ones on the front line who deal with visitors and know how make quality recommendations. In doing so, we feel we are making strides towards intercepting those visitors passing through our area and encouraging them to spend more time and money in the Miramichi." Trevors added that the technology has been greeted with a positive reception from both staff and visitors throughout the summer.
The itineraries include outdoor adventure, cultural activities, guides for the local festivals and suggestions for dining. Each itinerary is presented as a map with driving directions on the large SMART Board touchscreen display. Tourism councillors and guests can modify and add other points of interest to the map to suit their unique interests. Upon finishing a map, it can be either printed or sent to the guest's smartphone. The platform launched in June alongside MRTA's revamped website www.DiscoverMiramichi.com, both developed locally by MCG Media, creators of Mighty Miramichi.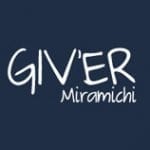 Giv'er Miramichi is about "What's up, what's new, what's happening". We are focused on building people up, supporting one another and celebrating our successes.