Black Tie Bingo, Dinner and Dance
The Mount Saint Joseph Foundation will be hosting their Third Annual Black Tie Bingo, Dinner and Dance on Saturday November 1st, 2014 at the Rodd Miramichi River.
The event promises to be an exciting, dynamic and fun filled evening. The evening will not only be packed with fun activities such as bingo, a silent and a live auction, but there will also be delicious food and very exciting prizes to be won.
Tickets are $125 each or a table of eight for $800. To purchase tickets contact the Foundation by phone at 622-5091 or by email at . Tickets are also available at Beaubears Credit Union, Seasons View Cafe, and Town Hill Jewellery.
All proceeds go toward Mount Saint Joseph Nursing Home projects. The Foundation's goal is to raise $100,000 in the next fiscal year for the Seniors Home, which desperately needs your support. In the past three years the Foundation has been able to make numerous purchases including 59 beds, six glider chairs, four lifts and much more.
The Mount Saint Joseph Foundation is a registered non-profit charitable organization, established and governed by a volunteer-led Board of Directors.
As a non-profit charitable organization, they rely on donations to enable the Nursing Home to provide the highest level of service at the most affordable cost to the residents. Donations of all kinds, including your time are greatly welcomed.
The Foundation's sole purpose is to generate funding in order to continuously upgrade the facility via improvements to meet the ever changing needs of the Residents. Those needs include and are not limited to, beds, furniture, diagnostic and therapeutic equipment, as well transportation acquisition and maintenance. The Foundation's goal is to enhance the Residents lives so they can live in as happy and comfortable, home-like atmosphere as possible.
Mount Saint Joseph is a long-term care facility operating since 1949. The home has 131 permanent residents plus two community relief beds. Within that populace are two specialty units consisting of a 15 bed Special Needs Unit for young adults with severe cognitive and /or physical disabilities, as well as a 25 bed Dementia Unit for those suffering form Alzheimer's disease or other related Dementias.
Mount Saint Joseph Nursing Home currently employs 150 staff and has many volunteers that assist in the delivery of care to the residents in a loving and nurturing environment.
The Foundation was incorporated in 2008. They received their Charitable Tax Status and number in January 2010. They hope to see you at their annual Black Tie Bingo, Dinner and Dance on November 1st.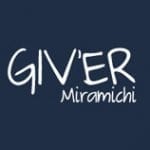 Giv'er Miramichi is about "What's up, what's new, what's happening". We are focused on building people up, supporting one another and celebrating our successes.