Escuminac Disaster Documentary to be Shown at Film Festival
The local documentary Still Fishing: Beyond the Escuminac Disaster has been accepted into the 2014 Silver Wave Film Festival.
The festival happens in Fredericton from November 6 – 9, 2014. Still Fishing: Beyond the Escuminac Disaster will screen on Sunday November 9th at 12 pm at the Charlotte Street Arts Centre, 732 Charlotte Street.
The film is a 28 minute documentary that recounts the story of the Escuminac Disaster of 1959. The tragic story is told through the perspective of three survivors Alphonse Doucet, Theodore Williston and Max Martin, as well as friends and family. In the small fishing community of Escuminac this devastating event that claimed the lives of 35 fishermen has made a lasting impact, leaving 83 fatherless children and 24 widows.
The documentary was directed, shot, and edited by Andrew King and produced by Cindy Trevors and Terry Power of the Miramichi River Tourism Association. Production started in 2013 when Andrew went to the Escuminac Wharf to shoot video footage of the opening day of lobster fishing. The film naturally took shape after seeing the monument at the wharf and speaking with the fishermen.
"It's not easy interviewing someone about such a tragic and personal story, but everyone involved in this agrees that it is a story that should be told," Andrew King says.
Giller prize winning author David Adams Richards who is also from the Miramichi area appears in the documentary to offer his insight.
"My God, over the years there has to be a pride associated with it and a tremendous realization of the nobility of human beings. That is why it is so important for people to understand," David Adams Richards says.
Theodore Williston and Max Martin are still fishing to this day. Alphonse Doucet fished for 50 years after the storm.
"People often ask me if I have fished all my life and my answer is, not yet," Theodore Williston says.
The annual Silver Wave Film Festival (formerly Tidal Wave) features something for everyone. This year's event offers a showcase of multicultural, new youth screenings, French and English programming of all genres and lengths and a comprehensive industry series which brings experienced and emerging producers and filmmakers together.
For more information on the 2014 Silver Wave Film Festival visit their website at swfilmfest.com.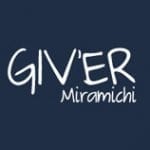 Giv'er Miramichi is about "What's up, what's new, what's happening". We are focused on building people up, supporting one another and celebrating our successes.