Groundhog Day Ball & More at Folklore Park in Renous
On Friday, January 30th, the Miramichi Folklore Park in Renous will hold their first annual Groundhog Day Ball. The music will be by Zach's Band and will go from 8 until 11 pm. There will be refreshments–food, coffee and tea provided, as well as canteen snacks. Tickets are $10 each or $20 per couple and available by calling Greg at 625-4336 or Bernie at 625-3544. The Folklore Park is very pleased to announce that a well-known local character, the groundhog known as Grainfield Greggie will be on hand making predictions for the upcoming year.
On Sunday, February 8th,from 2-5 pm the Miramichi Folklore Park presents Amy Jardine and Friends. Guest musicians include: Bernard and Marilyn Young, Suzanne Saulnier, Bruce Mountain, Todd Jardine, Greg Donovan, Junior Hubbard, Dan MacVicar, Johnny Manderville, the Harmony Twins, Maxine Turcotte, Bill Mullin, Tyrone and Donna Hubbard, Nigel Mullin, Geraldine Tucker, Grace Astle, Buddy MacDonald, Lawrence MacDonald, Nelson Jardine, Allan Washburn, Austin Sullivan,Wil Dedam, Nancy Sturgeon and others.
"This is to honour Amy, someone who has done so much over the years to help Miramichiers in their time of need," says Bernie Colepaugh, one of the organizers. "Of course, he did not do this alone, but if you were sick, injured or your house burned down, Amy was the one to call. He and his band Good Times or other guests were sure to appear and do their best to raise money for your cause."
The crew at the Miramichi Folklore Park are recording Amy, his family and a few others onto a CD. They are being helped with this project by Terry Whalen and Ian Donovan.
"On the afternoon of February 8th, we will be recording a video of Amy and some of the many people who have played with him over the years," Bernie says. "This performance will be put on to a DVD. The CD and DVD will be packaged together and will be available to the public. Watch for an update coming soon naming the musicians and singers who will be performing. So, come out and help pay tribute to a tireless eighty-something-year-old who is still in the fundraising business on the Miramichi."
The Miramichi Folklore Park is located at 46 Memory Lane in Renous. For more information telephone (506) 622-1569 or visit their website at www.miramichifolklorepark.com. For regular updates like their page on Facebook at Miramichi Folklore Park Inc. – Home of the Heritage Players.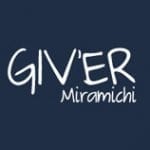 Giv'er Miramichi is about "What's up, what's new, what's happening". We are focused on building people up, supporting one another and celebrating our successes.