Local Women Visit Brits with Miramichi Connection
Last October local ladies Heather Coughlan and Darlene O'Shea vacationed in Europe. When they visited London, England they met up with Bill and Jean Blanchard, the owners of a narrow boat named "Miramichi", which we previously wrote about in March 2013. You can read that story in our online archives.
The group spent a day seeing the sights, walking seven or eight miles to visit Buckingham Palace, Trafalgar Square, and the Parliament Buildings among other places. The women brought gifts of Miramichi memorabilia to the couple including copies of our magazine, Giv'er Miramichi.
"The pennant and your other generous gifts which Darlene and Heather brought over are greatly appreciated, and the pennant will take pride of place on the stern of our narrow boat, Miramichi," the Blanchards wrote in a thank you letter to City dignitaries.
"We have cruised for around 150 hours this year covering approximately 450 miles of our canals and waterways. Most every time we have been cruising we have had comments on the name of your City, by fellow Canadians enjoying our canals and others who have visited Canada from around the world and are well aware of the significance to anglers the world over of The Miramichi, The Mother of all Salmon Rivers."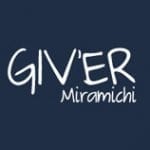 Giv'er Miramichi is about "What's up, what's new, what's happening". We are focused on building people up, supporting one another and celebrating our successes.