MEMA Speaks Out on Nursing Home Issue
"It's a shame, it's an awful thing." That's what Rev. Willard Watling said when he reflected on the current conditions of the senior citizens who have taken residence at the Miramichi Regional Hospital. "We were there at Christmas time singing carols and many of the seniors were weeping … they were crying." Watling feels there are no bright spots there. "It's really sad to see that we can't provide them with better care in a more recreational and stimulating environment."
Rev. Watling is one of several pastors in the Miramichi area who are members of the Miramichi Evangelical Ministerial Association (MEMA). They invited Dr. Gerard Losier to one of their meetings in November to listen to a sobering presentation on the current state of the nursing home situation in our city. Collectively, MEMA has agreed to support the best possible care of the elderly and wholeheartedly supports the efforts of Dr. Losier's plea for a solution.
Earlier at a city council meeting in September, Dr. Gerard Losier presented a petition of nearly 11,000 signatures to the mayor in support of a nursing home to be built with 21st century technology that would meet the needs of the city's ageing population. In January his petition was passed on from the mayor to Bill Fraser, MLA for Miramichi-Bay du Vin and Lisa Harris, MLA for Miramichi Bay-Neguac. Both MLAs have taken the petition back to Fredericton and plan to present it to the legislature at a future session.
The situation at the Miramichi Regional Hospital is growing dim. With an estimated 37% of the beds being used at the Miramichi Regional Hospital for senior citizens who have nowhere else to go, surgeries are regularly cancelled and patients are discharged as quickly as possible due to the shortage of beds. The seniors are effectively discharged patients but because of their conditions they cannot care for themselves and require constant monitoring. The situation is not new but there appears to be no quick solutions to alleviate the near critical situation at the hospital.
Mayor Gerry Cormier formed a committee of three city council members responsible for establishing and keeping a direct link with representatives of the provincial government. Deputy Mayor John Foran is the committee's chair and he feels positive about the way things have been going so far.
He and his committee have been liaising with provincial officials and representatives of those connected to the city's nursing homes. Going forward, Foran stated that they will need to create a strategy that can be presented to the provincial government prior to its next budgetary process so that a new nursing home can be included.
Joan Cripps who is one of the city councillors sitting on John Foran's committee charged with overseeing the city's nursing home crisis, feels that the issue cannot be delayed any further. She realizes that there are other hot spots in the province with a shortage of beds but few can lay claim to a situation as critical as the one in our city.
Veronica Jay, had to make a difficult and painful decision a few months ago for her 73 year old husband, Robert.
This decision originated from a massive stroke that Robert suffered in 2004. She cared for him for 10 years until his condition deteriorated to the point that she could no longer. She describes her husband as having the comprehension of a four year old child. She could not find any rooms at Mount St. Joseph or the Miramichi Senior Citizens Home and so had to bring her husband to the hospital. She describes the living conditions of his approximately 10 ft. by 10 ft. room which is shared with another senior citizen in stark terms. "It's limiting, it's very limited … my husband has a small locker which we use to store all his clothing. His room is a limited space. That's not normal."
Veronica Jay says that she visits her husband several times a week and often sees the other seniors walking aimlessly through the halls. "Some of them are never going to get out of there," she said. "They're not going to make it to a nursing home. I think they'll die there without making it to a nursing home."
Ms. Jay felt that there was only one solution, "The city needs a state of the art nursing home."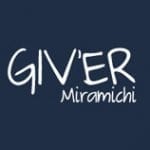 Giv'er Miramichi is about "What's up, what's new, what's happening". We are focused on building people up, supporting one another and celebrating our successes.