Last Chance to View one of Galerie ARTcadienne's Largest Exhibits
The Galerie ARTcadienne has been presenting one of its largest exhibits to date. Images of Acadie features work from the very well known Acadian artist, painter and illustrator, Nérée de Grâce. His paintings will be displayed until this Sunday, March 8th, 2015.
Blending a luminous imagination with the realism of life in a not-so-distant past, the paintings of Nérée de Grâce transport us into the heart of Acadie, his birthplace and the land to which his inspiration is anchored. His images, which are sometimes described as naive or folkloric and sometimes as surreal, immediately attracted the enthusiasm of the popular Acadian singer Édith Butler, who first recognized his talent and lent part of her collection of the artist's work to create this exhibition. This journey into the heart of the Acadian people will no doubt have the same effect on other viewers.
Nérée de Grâce was born in 1920 in Shippagan, a French-speaking Acadian town in northern New Brunswick. As a child, he loved to draw and learned to paint in watercolour. He completed a commercial diploma in stenography, typing and bookkeeping in 1938, but continued his education as a self-taught artist.
From 1944 to 1948 he studied decorative and commercial arts at the Beaux-arts art school in Quebec, where he was awarded first prize for drawing and sketching. He later started his own silkscreen business, "De Grâce Publicité." In 1977, he started working full-time on his painting, developing a colourful and vivid vocabulary. His style, ranging from naive art to surrealism, is reminiscent of Chagall. Recognized and promoted by Édith Butler, his artwork has been shown in several exhibitions at the Galerie Michel-Ange and used as illustrations in Antonine Maillet's books. One of his works was selected to be used on a postage stamp. Nérée de Grâce died in Quebec City in 2002.
This exhibition is produced and brought to us by the Musée Contemporain de Baie-Saint-Paul. This project was made possible through the invaluable collaboration of Lise Aubut and Édith Butler.
The Galerie ARTcadienne is open daily from 8 am to 9 pm and on the weekend from 9 am to 5 pm. For more information telephone (506) 627-4125. Admission is free. The Galerie ARTcadienne is located at 300 Beaverbrook Road in the Carrefour Beausoleil School (just take Newcastle Blvd by the old Court House on the King George Highway and follow the signs).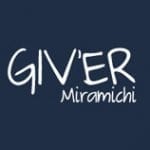 Giv'er Miramichi is about "What's up, what's new, what's happening". We are focused on building people up, supporting one another and celebrating our successes.