The stage is set – a barn in the Prairies and a bunker in France.
The lights are positioned – to create a dream sequence, sunlight and lightning.
The sound effects have been cued – thunder and machine gun fire will fill the theatre.
The actors (Brittany Cormier and Joey Dignam) have studied their lines and developed their characters' roles of Mary and Charlie.
All of this can be experienced by attending Double L Productions presentation of the award-winning play Mary's Wedding at the Vogue Theatre on Friday and Saturday March 13th and 14th at 7:30 pm and Sunday March 15th at 2 pm. Tickets ($20) are still available at Scott's Pharmasave and Brookdale Flower Shop Inc. Tickets will also be available at the door for all performances.
About the Play
Set during the First World War, Mary's Wedding is the story of Mary, a young English woman transplanted to the Prairies, and her first love, a farm boy named Charlie.
It is the eve of Mary's wedding, a night filled with dreams: dreams of love, dreams of war, and dreams of what might be.
When Mary and Charlie, filled with the passion, vulnerability, and impulsiveness of youth, unexpectedly find one another sheltering in a barn during a thunderstorm, a tentative love is born. But the year is 1914, and Mary and Charlie must surrender their love and fate to the uncertainties of their tumultuous times. A play with a heart as big as the land that serves as its backdrop, Mary's Wedding is a wonderfully tender, poignant story of innocent first love and the twists of fate.
Through flashbacks of key moments in their budding romance and Charlie's tour of duty with the Strathcona Horse Regiment in France's Moreuil Wood, we get a glimpse at the hardships and sacrifices many of our families made in the name of love and this country.
"Puts you in the mind of the grand passion of Catherine and Heathcliff in Wuthering Heights, the vastness of their love mirroring the wild tangle of nature." —Washington Times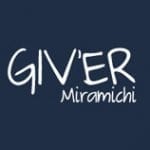 Giv'er Miramichi is about "What's up, what's new, what's happening". We are focused on building people up, supporting one another and celebrating our successes.