Registration for The Daniel Plan, Healthy Lifestyle Program

Registration for The Daniel Plan, a Healthy Lifestyle Program will be held in Blackville at the Fellowship Centre on Thursday, March 26th at 7:30 pm.
The Daniel Plan is an eight week practical lifestyle program designed to improve your health at every level. It is group based, involves daily journaling and a buddy system for support. The program focuses on five Key Points: Food, Fitness, Faith, Focus and Friends.
Guest speakers will include Alicia Quann, Miramichi Health Coach on Goal Planning and Dietitian Lucy MacRae on healthy meal choices.
Each evening will start with an optional 30 minute exercise program. The event will finish with a cooking demonstration. Dr. Tiffany Keenan will also provide private Wellness Assessments to selected program participants.
Registration cost is $50 which covers the cost of program materials and food for the event.
An information session will be held at Main Street ValuFoods on Wednesday, March 18th from 6-7 pm. Check out the Facebook group at Daniel Plan Miramichi for further updates or visit the website at www.danielplan.com.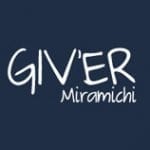 Giv'er Miramichi is about "What's up, what's new, what's happening". We are focused on building people up, supporting one another and celebrating our successes.