Courage in the Storm: A Tale of William Davidson (Dessert Theatre)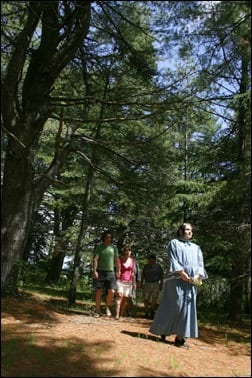 Two and a half centuries ago, William Davidson was granted 100 000 acres on the Miramichi River. Through many trials and with much ingenuity, Davidson succeeded in establishing the first English-speaking settlement in the region and is remembered fondly to this day as among our founding fathers. This year, the Miramichi Highland Society, and the Scottish Heritage Association have decided to commemorate this defining moment in our history with a series of events throughout 2015 and 2016. The first of these will be a theatrical production, staged in partnership with the Friends of Beaubears Island, based on Davidson's life, set to take place on the evenings of April 17-19 at the United Church Centre (556 King George Hwy).
They play, split into two acts, deals with Davidson's role in the settlement roughly between 1785 and his death in 1790. Along the way, the audience will see his interactions with his indomitable wife Sarah, Loyalist opposition in the form of Benjamin Marston and John Willson, and the enigmatic Charlotte Taylor. Writer Shawn McCarthy characterized the script as largely a work of historical fiction, lamenting that few records of actual conversations between Davidson and his historical counterparts exist. "It is what might have happened, based on what we know about the figures involved" he says, "with a bit of artistic licence for flavour." McCarthy added that this was not an insincere or fawning portrayal either, and that the characters are to be shown 'warts and all', so to speak.
Chris Matheson, known for his directorial successes in guiding the Miramichi Valley Drama Club and coordinating the Dare the Dark Headless Nun Tour, has agreed to direct the performance. Matheson will be pulling double duty as the Drama Club has just completed a succesful run of "Stage Door" at MVHS, but such is his commitment to history and the arts. Cast members for the show include Neil Wallace as William Davidson, Dorinda Glover as Sarah Davidson, Greg Donovan as High Sheriff Marston, and Cindy Rule as Charlotte Taylor. If reports from the early rehearsals are any indication, it should be a show filled with emotion, sure to please a variety of theatre-goers.
Adding to this already worthwhile production is that it is staged as a fundraiser for the Friends of Beaubears Island's Summer Student Program, providing longer summer employment to qualified students interested in our rich culture and storied history on the Miramichi. Desserts and refreshments will be provided at the intermission of each show, so along with a passinoate retelling of our past, you'll be able to indulge your sweet tooth as well. Tickets ($15) are available at Scott's Pharmasave, Brookdale Flower Shop, from members of the Highland Society and by calling Shawn @ 622-1633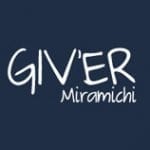 Giv'er Miramichi is about "What's up, what's new, what's happening". We are focused on building people up, supporting one another and celebrating our successes.