Doubleheader   Sweep
Yogi Berra would sum it up with his classic comment "Deja vu all over again" An outstanding pitching performance in game one was followed by an equally outstanding pitching performance in game two.
JF Neveu allowed one hit and no runs over 6 innings while striking out 12 as the Miecon Ironmen defeated the Saint John Alpines 5-1 in the opener.. Orry Cook headed the offensive charge with 3 hits including a double and a stolen base. The stolen base makes Cook the leader all time in stolen bases for the Ironmen
Darren Hardy had 2 RBI for the home team.
In game two, Emerson Savage tossed 6.2 innings of one hit ball while also striking out 12 in a 5-0 home team win.. The only Saint John hit was a lead off single in the top of the 7th.
Orry Cook again had 3 hits while Robert Gallant and Kris Keating had two apiece.  Jeff McCarthy had 2 RBI.
Miecon Ironmen are in Moncton today, May 24 , to meet the Moncton Fishercats at 2:00 . Veteran Kevin Bowes takes the hill for the Ironmen. .   View Images of the games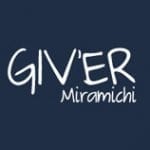 Giv'er Miramichi is about "What's up, what's new, what's happening". We are focused on building people up, supporting one another and celebrating our successes.