Miramichi Fishing Report for Thursday, May 7, 2015
Angling is picking up for spring salmon, trout and striped bass as we make our way in to the month of May.
[wp_bannerize group="doug1″]
Doug White's Tammerack Sports Fly Shop in Juniper said not much to report at this time. The water is running high but quite clear. There will be no fishing here for at least 3 weeks and that will depend on the weather and water temperature or at least until the snow melts.
W. W. Doak and Sons in Doaktown said fishing was moderately good with most anglers content with the numbers caught.  There was a good mix of salmon and grilse. The water was high, but not flood high.
Flies of choice were Renous Specials, Christmas Trees, Black Ghosts, Mickey Finns and Golden Eagles.
Derek Munn of Ledges Inn in Doaktown and Mountain Channel in the Rapids area said angling was slower Tuesday and Wednesday as the water had come up and the wind was keeping it a bit dirty.  The weekend had been good for fishing with anglers averaging 6 to 8 fish, with some limiting out.  There were also some nice Black Trout in the 14-15 inch range being hooked.  The salmon were in good shape and had good weight as there had been a very late run last fall.  Over all, this season compares well with other seasons so far.
Flies of choice were big and bright such as Marabous, Rabbit Strips and a variety of usual patterns.
Herb Barry Sr. of Herb's Fly Shop on the Station Road in Blackville said fishing was really good with a lot of good-sized salmon being caught  One was measured at 39 ½ inches.  Most were averaging 8-10 a day with the odd angler only getting 3 to 4.  There were also some nice Black Trout in the 18-inch range using a Gray Ghost.  He'd heard the smelts were in at Quarryville and in the lower Rapids area, but not to Blackville yet.  The water was high due to the melt run-off.
Flies of choice were the Silver Smelt which was by far the most popular along with Gray Ghosts and Christmas Trees.
Curtis Miramichi River Outfitting in Blackville said angling had been awesome on the weekend with more salmon than grilse being caught.  The water had come up earlier this week, and there was a nasty wind to contend with.  There are still some openings for Saturday's Fly Casting forum.  Cost is $95.00.  Angling should improve for the weekend as the water drops.
Flies of choice were Blue Smelts, Golden Eagles, Renous Specials, Miramichi Maggott, Miramichi Smelt, Black Ghosts and Christmas Trees.
George Routledge of George's Fly Shop at the Mouth of Renous in Quarryville said anglers were getting some small trout (up to 10 inches) near the Quarryville Bridge.  There were a few salmon and grilse being hooked, with grilse having the numbers edge.  The water was up and very dirty, but over all he felt the numbers of both salmon and trout were down so far.  He said the first smelt run had dropped down and the second had not come in as of yet.
Flies of choice were Black Ghosts, Mickey Finns, Golden Eagles and Renous Specials.
Jim Laws of Miramichi Hunting and Fishing in Newcastle, Miramichi reported good numbers of salmon and grilse being hooked.  On Wednesday the water was high and dirty from the warmer weather and the wind.  He had heard that the smelts were in.  Flies of choice were Black Ghosts, Golden Eagles, Miramichi Smelts and Renous Specials.  On the striped bass front, he had good reports of fish being caught between the Anderson and Red Bank Bridge on the Northwest.  There were also some bass reported at Strawberry March.  With the warmer temperatures, the bass season should really begin to kick into gear.
The DFO website has the following post regarding the angling of striped bass: In 2015, the retention fishing periods will take place from May 11 to 31, from August 1 to 23, from September 4 to 7 and from October 24 to 31.  During the retention fishing periods, anglers will be able to retain a maximum of one striped bass per day and will be prohibited from possessing more than one striped bass at any given time. Outside of these retention fishing periods, all striped bass caught must be released immediately in a manner that causes the least harm to the fish.  The size window for the retention fishery is established at a minimal length of 50 cm and at a maximum length of 65 cm. The length is measured in a straight line from the tip of the nose to the tip of the tail (total length).  Angling activities will begin two hours before sunrise and end two hours after sunset of each day.
Syd Matchett of Trout Brook Fly Shop on the Northwest Miramichi said anglers there were catching some, but not hordes.  The days of hooking 40 a day are gone with 5 to 6 a day now more realistic.  Some anglers were picking up some black trout in the 15-17 inch range by trolling.  The water was up and dirty on Wednesday.
The 27th Annual Red Bank Big Tex Trout Derby goes May 15-17.  Early registration is May 14 from 4-8 p.m. at Metepenagiag Heritage Park.  The biggest prize is a new car.  Registration is $50 for Group A, $30 for Group B and $20 for Group C.
Flies of choice were Christmas Trees, Blue Smelt and Golden Eagles.
Debbie Norton of Upper Oxbow Outdoor Adventures on the Little Southwest Miramichi said May 1 was the first day that they could fish the Northwest system due to late ice-out.  Sunday and Monday were good days with anglers averaging six a day.  Tuesday and Wednesday the water was very high and dirty with few if any results.
Flies of choice were first and foremost a new one called The Flame-Thrower which has a Muddler head and a Marabou body with green, red and yellow, along with the Black Ghost.
She had heard of good numbers of striped bass being hooked below the Red Bank Bridge this week.  One of her sports really hooked a big one:
Norton said that the MSA is fitting some out-going kelts with tracking transmitters to study what happen to them on the way out and while they are in the ocean.  These devices record the depth and water temperature where the kelt is.   Based on some of the variable data recorded by one of the tags, they felt it was possible that the fish had been eaten by predator such as a Porbeagle Shark. Mark Hambrook of the MSA will be at the Red Bank Wharf on Saturday and would like anglers' assistance in providing live kelts for tagging.  Contact him at 623-8971 and he will come to you to fit the transmitters on the fish.
The smolt-counting wheels will be put into the various rivers this week to record the out-migration of smolts.  The Lieutenant Governor of New Brunswick, Honourable Jocelyn Roy Vienneau, and the NB Salmon Council presented the Lieutenant Governor's Award for Wild Atlantic Salmon Conservation posthumously to Lou Duffley who was a founding member of the NB Salmon Council. The ceremony took place Wednesday May 6 at Government House in Fredericton.
So as the weather warms, the angling season is beginning to unfold, so it is time to get out and "on the water".
Don't forget to show your support for our sponsors, because without them, this column would not be possible.
Check out Deals 4 U in Miramichi for your grocery needs, and good Cuban cigars to celebrate getting back to the rivers and the Stanley Cup playoffs. Drop by Mac's Seafood for great savings on seafood products from the Atlantic region and abroad, deli meats and so much more!
ANY FINANCIAL CONTRIBUTIONS TOWARD HELPING WITH THIS COLUMN ARE GREATLY APPRECIATED. Click here to donate now. A SPECIAL THANKS to all who made contributions last season.
If you would like to sponsor this column, give us a call at (506) 352-7668 or email .
[wp_bannerize group="doug2″]
Thought for the Week: "The fun of fishing is catching 'em, not killing 'em." Norman Schwarzkopf
Atlantic Salmon Federation News
Thursday, Apr. 30, 2015
ASF RIVERNOTES Reports on the Miramichi and Elsewhere
~~~~~~~~~~~~~~~~~~~~~~~~~~~~~~~~~~~~~~~~~~~~~~~~
The Upsalquitch holds a river celebration, and there are kelts in the Miramichi. Read more.
http://atlanticsalmonfederation.org/rivernotes/
ASF Research Staff Off to the Rivers
~~~~~~~~~~~~~~~~~~~~~~~~~~~~~~~~~~~~~~~~~~~~~~~~
With water levels dropping and ice free areas increasing, ASF researchers are starting the process of deploying equipment and undertaking research
http://asf.ca/research-in-the-field.html
ASF Honours Michael Meighen with Top Salmon Conservation Award
~~~~~~~~~~~~~~~~~~~~~~~~~~~~~~~~~~~~~~~~~~~~~~~~
Passionate about Atlantic salmon, Michael Meighen has made a significant contribution to conserving, restoring and protecting the species.
http://asf.ca/asf-honours-michael-meighen-with-top-salmon-conservation-aw.html
Alewives Dodge Dam Closing on St. Croix River
~~~~~~~~~~~~~~~~~~~~~~~~~~~~~~~~~~~~~~~~~~~~~~~~
Maine Lawmakers have rejected a bill to bar alewives from most of the St. Croix River. Read more.
http://asf.ca/alewives-dodge-a-dam-closing-on-st-croix.html
Miramichi Striper Cup – May 29-31, 2015
Miramichi, New Brunswick, Canada
(506) 623-2062 /
The Miramichi Striper Cup will take place on May 29th-31st, 2015. This "catch and release" striped bass tournament is expected to attract a broad demographic of fishing enthusiasts due to our three main divisions of competition. Our Team/boat division will allow up to four (4) team members to compete for a $5,000.00 cash prize in this two (2) day competitive division. Each team will be allow to weigh two (2) fish per day for a total of four (4) over the two days.
Our Individual/shore division is expected to be our biggest draw with participants competing for some great prizes in a "greatest length" style two day competition. All participants will be required to photo document their catch and submissions will be posted on our website and social media sites.
Leaderboard style updates will be provided via social media and our websites to keep followers interested and enthusiasts visiting our sites to get the latest updates. Our Youth Division (16 years and under) will provide the future of the recreation fishing industry with an opportunity to experience the spirit of competition but will also form our target market in years to come by providing a premium event and experience at no cost to the youth participant.
We invite you to explore our site dedicated to the Miramichi Striper Cup and encourage you to contact us if you have any questions or concerns. http://www.miramichistripercup.ca/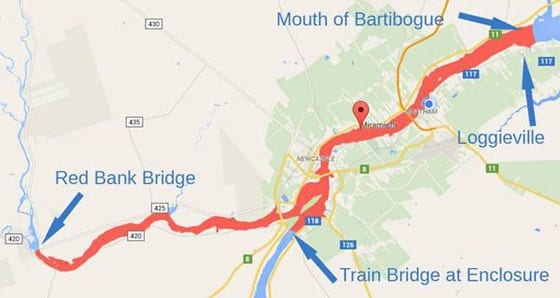 Until next week
TIGHT LINES
DOUG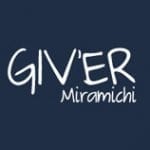 Giv'er Miramichi is about "What's up, what's new, what's happening". We are focused on building people up, supporting one another and celebrating our successes.