Miramichi Fishing Report for Thursday, June 4, 2015
The first annual Miramichi Striper Cup tournament was a success. "A team of 3 men and one woman captured the Team title and the $5000 cheque at the Miramichi Striper Cup on Sunday. Each team weighed their biggest two fish on both Saturday and Sunday, and the highest two day total determined the winner. The winning team got hot, and beat the nearest competitor by almost ten pounds.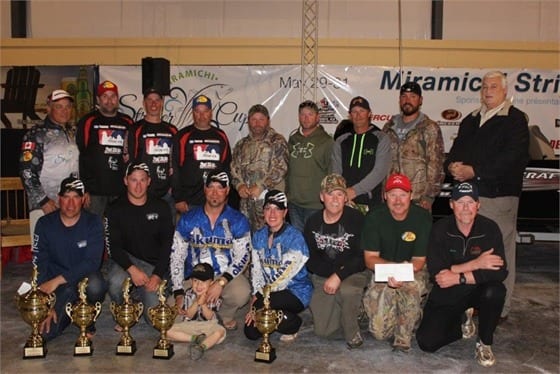 The team members were from McKees Mills, St. Antoine, and Bouctouche: Rejean Basque, Luc Allain, Marcel Goguen, and Renee Allain.
"We didn't know where the big fish were exactly, but we know the area. We have been fishing bass in Miramichi for 4 or 5 years, and we know where the fish hold. And we can tell you that Renee is the one who caught all the big fish."
"We are here every weekend, because my parents have a place in Blackville," said Rejean. The team claims all their equipment comes from a family owned fishing store in St. Antoine, and the store is actually the team's name: Basque Fly Rods." (from the Miramichi Striper Cup website. Click for more details)
Visit the Mighty Miramichi photo gallery for more photos of the tournament! Gallery 1 / Gallery 2 / Gallery 3. To add your own photos from the Miramichi Striper Cup Tournament, click here!
[wp_bannerize group="doug1″]
Doug White's Tammerack Sports Fly Shop in Juniper said there was not much to report. The river is high and a few people are fishing but there has been no salmon or sea trout caught at this time. Maybe by the weekend, IF there is no more rain.
W. W. Doak and Sons in Doaktown said there were modest reports of some fish being caught. There was a 12-pound bright salmon in the Doaktown area and some sea-trout reports, while other anglers were not so lucky. It seemed better for trout last week with the water slightly warmer, but generally, water conditions were quite favourable.
Basically, the season was now in transition, with more positive reports hoped for next week.
Flies of choice were Butterflies, Muddlers, Royal Wulffs, some streamer patterns and White-tailed Green Machines as anglers overlapped fishing for both trout and salmon.
Derek Munn of Ledges Inn in Doaktown and Mountain Channel in the Rapids area said there was an odd report of a bright salmon and decent trout catches. Water conditions were perfect. He felt we were just starting into the summer stretch and hoped for a better report next week.
Flies of choice were White-tailed Green Machines, Muddlers, Royal Coachmans, Butterflies, Black Ghosts and Wulffs.
Herb Barry Sr. of Herb's Fly Shop on the Station Road in Blackville said there were no reports other than a few trout and nothing big that he had heard of. There were no bright salmon reported yet, but that could happen soon. He did hear that some anglers got into pretty good striped bass fishing as far up as Quarryville Bridge and the Mouth of Renous.
Flies of choice were Butterflies, Green Machines, White-tailed Green Machines, Black Ghosts and Muddlers.
Curtis Miramichi River Outfitting in Blackville said anglers were reporting a few bright trout. There was one report of an eight-pounder in the Barnettville area. Water conditions were good and canoeing was also good. They have two spots left in their Fly Casting School scheduled for June 13. Cost is $95.00 Call 1-506-843-2481.
Flies of choice were Wulffs and Royal Wulffs on nos. 10, 12 &14 hooks.
George Routledge of George's Fly Shop at the Mouth of Renous in Quarryville said there were a few anglers out for a change, but not many catches to report. There were a few black trout caught, but no big ones, and no reports of bright salmon, although he felt the time was getting close for them to show up. The water was a tad low and rain on Wednesday show help the level quite a bit.
Flies of choice were Black Ghosts, Green-butt Bear Hairs, Green Machines, White-tailed Green Machines and Butterflies on nos. 6 & 8 hooks.
Jim Laws of Miramichi Hunting and Fishing in Newcastle, Miramichi reported a bit of a quiet time after all the excitement around the bass tournament. He had no reports of bright salmon, and only a few good-sized trout reports. He was going to try for some stripers using a fly rod.
Flies of choice were White-tailed Green Machines, Rat-Faced McDougalls, Butterflies and Muddlers.
Syd Matchett of Trout Brook Fly Shop on the Northwest Miramichi said angling was quiet. He had heard of a couple of nice sea-trout measuring 21 &24 inches long. There were no bright salmon reported, but one angler was sure he raised a couple. There were a few salmon in the system, although no anglers had luck with them. Syd did catch a nice 2 11111/2 pound fish he thought for sure was a sea-trout as it came up and took a Red & White Bomber. However, it turned out to be a "sucker".
Flies of choice were Shady Ladies, Red & White Bombers, Yellow-winged Butterflies, Muddlers and White-tailed Green Machines on nos. 4 & 6 hooks.
Debbie Norton of Upper Oxbow Outdoor Adventures on the Little Southwest Miramichi said other than striped bass there was little to fish for at present. The trout run had gone by and there were no reports of bright salmon yet, but they could be here "on the next tide". The water was low, but cold.
Flies of choice were Butterflies and Black Ghosts.
The Miramichi Salmon Association said that they have removed the smolt-wheels for the various rivers, but the trap net at Chatham will continue counting until Friday June 5. They will issue a report on the results in the near future.
So with a few brights in the system, and hopefully more to come soon, it's time to get out and "on the water".
[wp_bannerize group="doug5″]
Don't forget to show your support for our sponsors, because without them, this column would not be possible.
Check out Deals 4 U in Miramichi for your grocery needs, and good Cuban cigars to celebrate getting back to the rivers. Drop by JH Stewart Ltd. for outboard motors, ATV's and more. Check out the 2015 Honda TRX 500 DCT on sale for $10,499!
ANY FINANCIAL CONTRIBUTIONS TOWARD HELPING WITH THIS COLUMN ARE GREATLY APPRECIATED. Click here to donate now. A SPECIAL THANKS to all who made contributions last season.
If you would like to sponsor this column, give us a call at (506) 352-7668 or email .
Thought for the Week: "Men and fish are alike.  They both get into trouble when they open their mouths."  ~Author Unknown
Atlantic Salmon Federation News
Friday, May 29, 2015
ASF Releases State of the Population 2015 Report
~~~~~~~~~~~~~~~~~~~~~~~~~~~~~~~~~~~~~~~~~~~~~~~~
ASF released its report based on the latest scientific information on the state of the Atlantic salmon, and it clearly shows the expanding harvests in Greenland are unsustainable.
http://asf.ca/greenland-take-was-63-of-harvest-for-salmon-returning-2014.html
Backgrounder on STATE OF THE POPULATIONS 2015
The four-page pdf backgrounder on the State of the Populations can be downloaded directly with the link below:
http://0101.nccdn.net/1_5/360/348/0c5/sop2015v5.pdf
Article in Response to the State of the Populations
~~~~~~~~~~~~~~~~~~~~~~~~~~~~~~~~~~~~~~~~~~~~~~~~~~~
Canadian Press covered the 2015 report with interviews that included ASF's Sue Scott, representatives of Greenland and Canada, and an angler, providing a wide perspective.
http://asf.ca/asf-calls-on-greenland-to-cut-catches.html
ASF Research Blog
~~~~~~~~~~~~~~~~~~~~~~~~~~~~~~~~~~~~~~~~~~~~~~~~
The ASF researchers have been taking advantage of every daylight hour to see that fieldwork is done, as smolt are leaving the rivers on their migration to sea.
http://asf.ca/research-in-the-field.html
Is Live Release Policy Coming to Newfoundland
~~~~~~~~~~~~~~~~~~~~~~~~~~~~~~~~~~~~~~~~~~~~~~~~
Don Hustins provides a perspective on Atlantic salmon in Newfoundland, and thoughts on the future.
http://asf.ca/catch-and-release-policy-could-come-to-nl-says-hustins.html
Predicting How Fish Populations Respond to Dams
~~~~~~~~~~~~~~~~~~~~~~~~~~~~~~~~~~~~~~~~~~~~~~~~
A scientific study this past week is providing new insight for the Penobscot River and other rivers on how to analyze the impacts of dams and fish passage.
http://asf.ca/new-model-predicts-fish-population-response-to-dams.html
Fish Bypass Work Proceeds at Howland, ME as Fill Finds New Home
~~~~~~~~~~~~~~~~~~~~~~~~~~~~~~~~~~~~~~~~~~~~~~~~
A state-of-the-art fish bypass is being excavated where the Piscataquis River meets the Penobscot. A plan has been approved for attending to the fill. The bypass is an important part of the Penobscot Project.
http://asf.ca/fish-bypass-work-progresses-as-fill-finds-new-home.html
Video
Striped Bass spawning in Miramichi
Until next week
TIGHT LINES
DOUG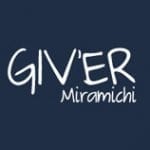 Giv'er Miramichi is about "What's up, what's new, what's happening". We are focused on building people up, supporting one another and celebrating our successes.