Doaktown Annual Fair runs July 31st – August 2nd
The Doaktown Annual Fair happens this August long weekend.
Events kick off on Friday, July 31st with Children's Activities from 2 – 4 pm at the Doaktown Community/ School Library. Kids are invited to enjoy a game of Minecraft plus other games and snacks. Visitors are welcome.
At 7 pm Friday evening there will be a Country Music Jamboree in the Doaktown Elementary School Auditorium featuring Steve Lyons, Mayor Gaston, Gary Long and Friends. Admission is $5 for Adults, $2 for Children aged 5-12, and kids under 5 get in for Free.
The fun continues on Saturday, August 1st with Breakfast from 8 – 11 am at the Doaktown Curling Club. It will be served Buffet style and the cost is $10 per plate.
From 10 am – 4 pm enjoy fun for the whole family with Face Painting, Bouncy Castles, BBQ, Games, Petting Zoo, Pony Rides, Food and Market Vendors at the Doak Historic Site. Admission is by donation.
Also from 10 am – 4 pm is the Bake Sale, Craft, Produce and Preserves Contest. Enter your knitting, crocheting, quilting, woodworking, garden produce, jams, jellies, pickles, etc. for the chance to be #1 in your category. Entry forms may be picked up at the Doak House Welcome Centre. The forms must be attached to items when dropped off at the St. Thomas Church Hall on Friday, July 31st between 10 am and noon. Prize ribbons for the winning items must be collected by the owner between 3 pm and 5 pm on Saturday, August 1st.
At 11 am it's the first Annual River Run 4 Vets hosted by the Doaktown Legion with a Pig Roast, BBQ, Music, and more. Don't delay getting your tickets for this fun event! Support our Veterans! Participants will gather at the McNamee Footbridge at 11 am. For $25 per person, your package will include a River Run 4 Vets T-shirt, souvenir and meal. For those who can't join the River Run, a pig roast and BBQ will take place at 6 pm at the Doaktown Legion. The evening will consist of music, 50/50 draw and photo booth. Tickets can be purchased at the Trillium/ Sears (365-4600) or at the Doaktown Legion (365-7646). Money Raised from this event will go towards improvements to the Veterans Cenotaph at Branch #23 in Doaktown.
At 3 pm Saturday afternoon it's the Annual Golf Ball Drop at the Doaktown Fair Grounds, next to the Curling Club. Please note that last minute tickets will be available at the Friday night Jamboree.
Sunday night August 2nd things wind down with a Nite-Light Parade and Fireworks. At approximately 8 pm the Nite-Light Parade will begin at the Doaktown Picnic Site and proceed to the Doaktown Elementary School. Where a fireworks display will follow at 10 pm.
For more information about the Doaktown Fair or to register for the parade contact Linda Gaston at 365-7054 or email .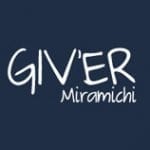 Giv'er Miramichi is about "What's up, what's new, what's happening". We are focused on building people up, supporting one another and celebrating our successes.