Doaktown Park receives Funding for Improvements
The Village of Doaktown's community park will be improved, thanks in part to Canada 150 Community Infrastructure Program (CIP 150) funding announced today by Tilly O'Neill Gordon, Member of Parliament for Miramichi, on behalf of the Honourable Rob Moore, Regional Minister for New Brunswick and Minister of State (Atlantic Canada Opportunities Agency).
"The 150th anniversary of Confederation is a time to celebrate the places across this great country that unite and connect us – the parks, the trails, the cultural and community centres and more. The Canada 150 Community Infrastructure Program will have a lasting impact in Atlantic Canada and will ensure residents, such as those here in Doaktown, have access to improved community spaces,"  the Honourable Tilly O'Neill-Gordon said.
The Government of Canada has approved a contribution of $33,517 to add a splash pad to the existing community park. This funding is part of the up to $16.6 million in funding allocated for projects in Atlantic Canada under CIP 150, announced earlier this year by Prime Minister Stephen Harper. This splash pad will be the only one of its kind between Fredericton and Miramichi, providing a new attraction for both residents and tourists visiting the area along the Miramichi River Route.
"The Friends of the Doaktown Community Park and the community as a whole are very excited about the funding for our park splash pad. This investment will help us achieve the goal of making our new park a centerpiece for the community, welcoming to our citizens and to our children and encouraging tourists travelling the Miramichi River Route to stop over in our Village," said Bev Gaston, Mayor of the Village of Doaktown.
The national Canada 150 Community Infrastructure Program is providing up to $150 million over two years to support projects that rehabilitate, renovate and expand existing public infrastructure for communities. It is part of the Government of Canada's activities to honour Canada's 150th anniversary of Confederation in 2017. The program is expected to boost economic activity through infrastructure investments, build community-based partnerships and modernize existing community facilities.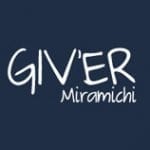 Giv'er Miramichi is about "What's up, what's new, what's happening". We are focused on building people up, supporting one another and celebrating our successes.