Historic Period Beach Finds
By S. Glidden
Remnants of glass, pottery and metal from implements used in the daily lives of European settlers are still visible on local beaches today. These are historic period artifacts dating to the early 16th century when Europeans first settled this part of eastern Canada. In the following article, three historic period artifacts found on local beaches will be looked at and briefly described.
Not usually found on a beach surface, the first item is a small hollow cobalt glass bead that resembles a trade bead. Trade beads were brought along with early European settlers for exchange of furs and other goods with local Native Peoples. The beads were probably manufactured in Europe as well. It is difficult to confirm precisely if this is indeed a bead used in trade, as the artifact, as all beach artifacts are, was found "out of context." This means rather, that it was located with other scattered cultural material and not found in an actual archaeological site.
An intact clay pipe bowl with a section of stem was spotted on a higher section of local beach embedded in sand. The front of the bowl is decorated with intricate leaves and raised dots with a three leaf motif in the centre. The back of the pipe bowl is ribbed with tiny decorative curls in between. There doesn't appear to be any mark distinguishing the maker of the pipe.
Fragments of stems and bowls of historic clay pipes used by early settlers are found in high traffic areas where people worked and congregated. Pipe stems are smooth and are ivory in colour and have small hollow holes. In general, whole clay pipes were characterized by a fairly long stem and a small pipe bowl and were decorated with various designs and motifs and often initialled or marked in some way by the ceramicist or pipe maker. Once the pipe's bowl was filled with tobacco, a smoker would have a "puff". The stem end got worn and "gummy" after a while, at which time the end would be snapped off and used again, as good as new. This pattern continued until the stem obviously got too close to the bowl and a smoker was forced to purchase a new pipe.
The final beach find may be an ordinary rusted ball bearing or something entirely different. This heavy round orange brown form, about golf ball size, resembles metal shot used for ammunition. Musket shot is made of lead, and has a white overall appearance but there is no white on the artifact surface. Could it be that the shot, in water, rusted over the lead? Grapeshot, was another kind of metal ammunition placed into bunches (like grapes, hence the name) and fired. It would be interesting to determine if the latter was used sometime in the historic period. Grapeshot was the ammunition used in the Battle of the Plains of Abraham in Quebec in 1759.
Like the blue bead, and pipe bowl above, beach artifacts are difficult to analyze due to their lack of context. If found undisturbed in an archaeological site of European settlement, for example, these items may be able to offer up more detail about their use.
Over time rising water levels forced Native prehistoric sites and more recent historic sites to erode out of the soil and onto beaches. Before the advent of landfills, leftover debris from historic river settlements was thrown on riverbanks where it accumulated over decades and finally, at some point, ended up on shore and in the water. Historic period artifacts date to first European settlement while Native artifacts from the prehistoric period are from the time prior to European contact comprising thousands of years. Artifacts include flake material or "debitage" from flint knapping and sometimes used or broken stone tools. No doubt stone tool knapping by local Native people still occurred to some extent during historic times as well.
Click to enlarge any of the photos below.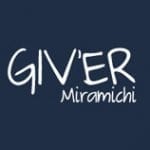 Giv'er Miramichi is about "What's up, what's new, what's happening". We are focused on building people up, supporting one another and celebrating our successes.