Bruce MacKinley receives Rotary International Spouse/ Partner Service Award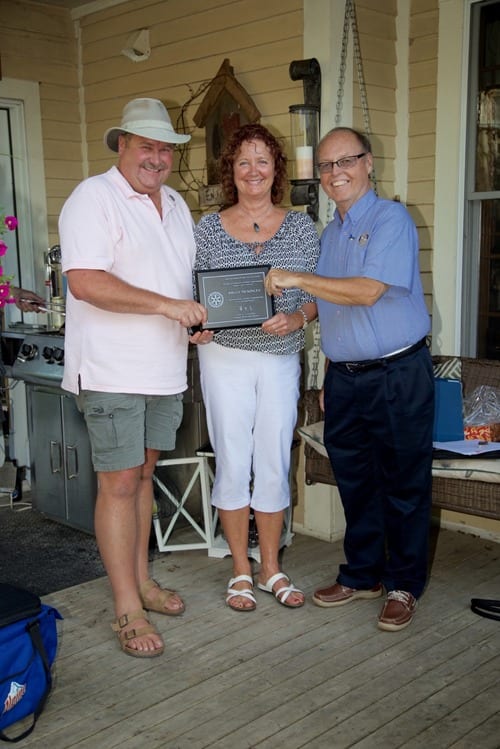 Bruce MacKinley, husband of Newcastle Rotarian Geri Mahoney, was presented with the Rotary International Rotarian Spouse/Partner Service Award at a recent club gathering.  The award recognizes spouses and partners of Rotarians who have demonstrated exemplary humanitarian service through Rotary.  Only a maximum of 100 individuals worldwide are selected to receive this award annually.  The emphasis is on personal volunteer efforts and active involvement helping others.
Bruce consistently models the attributes of "Service Above Self" as a citizen and a humanitarian within the Miramichi community.  The Rotary Club of Newcastle nominated MacKinley for the award because of the countless examples of his contagious energy and service leadership.
One specific example amplifies the extensive impact MacKinley had on the success of the annual Rotary Pond Hockey Tournament.  Each year MacKinley and his mighty team of volunteer fire fighters helped to transform French Fort Cove into a winter wonderland of pond hockey competition, ice skating surfaces, fireworks and a number of other features.  During the nine years of the event everyone in the region awoke from its hibernation and came alive in early February, to celebrate the season and raise funds for worthy causes identified by the community to Rotarians.
A major fundraising event of this magnitude requires leadership, attention to logistic details, risk management and a dedicated team with a shared goal.  Bruce provided these attributes, balanced with expertise, a powerful work ethic, a talent for rallying colleagues toward a common cause and a passion for his community.
The humanitarian impact of Bruce MacKinley extends beyond Pond Hockey.  For any activity or event sponsored by Rotary, you could count on Bruce and his wife Geri to provide leadership and support.  They both volunteered countless hours towards the recent Rotary Spring Fest.   They have also opened their home as hosts for international students.
"The spouses and partners of Rotarians play an active and vital role in Rotary.  They support and extend Rotary's fellowship network and service impact in ways that cannot be counted or measured.  Their involvement and commitment make Rotary a "family" in the truest sense of the word" stated Gary C. K. Huag, the outgoing President of Rotary International, in a letter acknowledging  MacKinley's receipt of the award. "With this award, our Rotary family recognizes the contributions you have made through Rotary over the years.  I want to thank you for generously giving your time and effort to serve people and communities in need" Huang continued.
The Rotary Club of Newcastle feels honoured to have such a role model as Bruce MacKinley to call upon when there is a need for his talents.  Club President Pat Perry said "I was so excited when I found out that the nomination had been approved by Rotary International as the club thought that Bruce was so deserving."
Photo left to right: Bruce MacKinley receiving Rotary International Spouse/Partner Service Award, Geri Mahoney, member of the Rotary Club of Newcastle and Mike Walsh, Past District Governor of Rotary District 7810.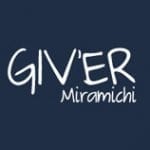 Giv'er Miramichi is about "What's up, what's new, what's happening". We are focused on building people up, supporting one another and celebrating our successes.