An Update on the Miramichi Boat in the UK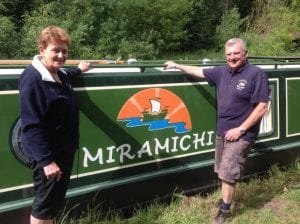 Last October local ladies Heather Coughlan and Darlene O'Shea vacationed in Europe.
When they visited London, England they met up with Bill and Jean Blanchard, the owners of a narrow boat named "Miramichi", which we previously wrote about in March 2013.
The women spent a day sightseeing with the Blanchards and presented them with some gifts including a Miramichi pennant and copies of our Giv'er Miramichi magazine.
Recently we've received another update from the couple, who wrote an email:
"I thought you might like to see the Miramichi City Pennant that was generously given to us by the City of Miramichi, Heather from Gray Rapids and Darlene passed it over to us when they visited the UK last October. This year Miramichi has been seen by many people including many Canadians from across Canada including the Maritime Provinces. During our cruise we have visited such places as Coventry, Oxford, Banbury, Birmingham and further north to the Potteries of Stoke on Trent. The name of our boat always invites comment when going through the locks, allowing us the time to explain the significance of the name and the reason we chose it and how your City generously agreed to let us use your logo. We have enjoyed being your 'Ambassador' from across the pond! And will both continue to advertise New Brunswick and Miramichi in particular. I will attach some photographs of Miramichi flying your pennant.
Best Wishes,
Jean and Bill Blanchard"
You can read the original story from 2013 as well as last year's update in our online archives at www.GiverMiramichi.com.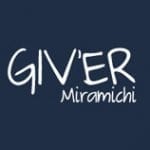 Giv'er Miramichi is about "What's up, what's new, what's happening". We are focused on building people up, supporting one another and celebrating our successes.