Rotary Club Recognizes Community Volunteers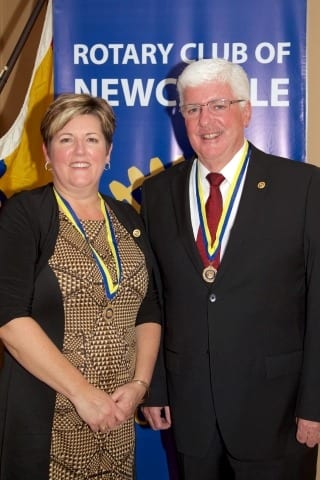 The Rotary Club of Newcastle held its Paul Harris Recognition Evening recently. The club honoured Valerie Comeau and Derek Burchill with Paul Harris Fellows for their countless hours of community service. This recognition is named after Rotary's founder, Paul Harris. The Master of Ceremonies was Pat Perry, Club President.
Valerie Comeau, a member of the Newcastle Rotary Club since 2007, served as President of the Club and has held other positions such as Vice President and Sergeant at Arms. Valerie has assisted with various club fundraising activities such as pond hockey, purse auction and rib fest. When Valerie is involved in volunteering, you can count on her showing up with husband Paul and a "team" of willing supporters. Her extended family and coworkers often share their time to the benefit of the club's projects. Valerie has chaired the fundraising and awareness campaign for polio eradication. A mock immunization is held at local elementary schools to educate the children on how close we are to eliminating the polio virus. Originally called Pennies for Polio, the students now donate nickels and the club matches the total raised.
Valerie's community service extends well beyond Rotary. She has chaired the Miramichi Rock N Run since 2010. This popular event attracts runners/ walkers from all over Canada. The proceeds have been given back to community organizations such as the food bank, cross country ski club, Scouts and Autism Resource to name a few. Valerie sat on the Board of Stewards for St. Mark's United Church for a number of years and has been involved with the shoreline clean up. She also volunteers with the hospital foundation's gala.
Valerie's employer, Scotiabank, has generously donated thousands of dollars to our community as a result of the local staff's fundraising efforts. The Rotary Club has benefited as well as Hospice Miramichi, emergency shelter for women, Mount St. Joseph Foundation and the MS, ALS and AIDS Walks. Three defibrillators have been placed throughout the community, one of which was instrumental in saving a life earlier this year.
Derek Burchill has made volunteering a way of life. He has worked tirelessly over the years to help improve our community. Starting out with the Scouting movement, Derek went on from there to become involved with the Jaycees and in 1974 was named Outstanding President in Canada. He was awarded a Jaycee Senator in 1977. He was a member of Rotary from 1981 to 1983. He also chaired and co-chaired numerous committees from raising funds for swimming pools to chairing the Tall Ships Festivals over the years.
Derek started the White Gold Winter Festival and was the Chair for five years. He was the President of the Miramichi Golf & Country Club from 1987 to 1990. The membership doubled from 400 to 800 during that period. He chaired the building committee that oversaw the construction of Ritchie Wharf Park in 1989 and has been the President of the commission ever since. Derek was the President of the Newcastle Business Association from 1992 to 1993 and won best Business Improvement Area award in New Brunswick. And in 1995, won the Downtown Business Award for the former Town of Newcastle. Derek was President of Miramichi Trailblazers Snowmobile Club and helped raise $150,000 to purchase a Lamtrac Groomer in 1998.
Derek was a Director of Tele Education representing NBCC on the funding committee that dispersed $4,000,000 in assistance to IT companies. He was Vice President of MiraTech NBCC. In 2007, he was appointed by the provincial government representing Miramichi to establish criteria for the Northern Initiative Fund.
In 2008, he was elected to City Council. He was the Chairman of the Economic Development Committee, a member of Enterprise Miramichi, represented the city on the Miramichi Airport Commission and was appointed the Chairman of the Finance Committee. Derek's interest in politics led to his involvement in election campaigns at the provincial and municipal level.
His interest in tall ships has led to attracting them to visit Miramichi since 1997. The high point was in 2013 when Derek chaired a committee involving hundreds of volunteers bringing one of the most successful tourist attractions, the New Brunswick Festival of Tall Ships, to the Miramichi.
A dedicated family man, Derek and wife Kathy have three children and two grandsons.
Both Valerie and Derek exemplify Rotary's motto of "Service Above Self". They give of their time not for the accolades but because they care about our community.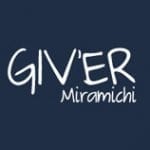 Giv'er Miramichi is about "What's up, what's new, what's happening". We are focused on building people up, supporting one another and celebrating our successes.