One-Woman Play "Julian" being Staged in Miramichi

DOUBLE L PRODUCTIONS presents the play "JULIAN" by J. Janda on Friday and Saturday March 18th & 19th at 7:30 pm and Sunday March 20th at 2 pm at The Rodd Miramichi in Historic Downtown Chatham.
The play, based on the life of Julian of Norwich, England features DIANE DONOVAN and is directed by Lloyd E. Cameron.
Mystic, writer and spiritual guide, Julian is the first-known Englishwoman whose written work survives.
Tickets are $15 for the play and are available at Scott's Pharmasave and Brookdale Flower Shop, or by calling 773-5101.
Reservations for a Buffet Brunch at 12:30 pm at The Rodd before the Sunday performance for $15 can be made by calling 773-5101.
Julian was an anchoress; that is, a woman who chose a life of solitude and prayer by living in a small one or two room dwelling adjoining a church, her name coming from the Church of St. Julian in Norwich, England. A contemporary of Chaucer, Julian lived during the Hundred Years War and survived three outbreaks of the Black Death and the division of the Holy Roman Catholic Church. This play is based on her written work in 1393, Revelations of Divine Love, in which she speaks of God's love in terms of joy and compassion (a daring likening of divine love to motherly love), revels in the changing seasons and the abundance of beauty in nature.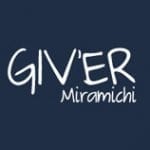 Giv'er Miramichi is about "What's up, what's new, what's happening". We are focused on building people up, supporting one another and celebrating our successes.