Family Bass Adventures for Wellness
Being an Engineer, Mentor and Instructor every one of us are faced with a lot of different pressures. I recently attended an Oasis Seminar by Catherine Doucette Training and Communications on "Perform Better Under Pressure".
It highlighted a lot of ways you and your family can "fill yourself back up". Whether it is exercise or fishing, getting out with the family should be a wellness strategy. Getting outdoors with your family can make the greatest memories for everyone in your household. When I see families on the shore it is not simply how many bass you catch or how big of one you got, but it's family time.
We miss family time.
I teach technology and we know how TV, Game Console, Mobile phone and tablets can suck away the family time. Make time for family and get out fishing! Keep the cell phone handy to take some photos of those big fish moments. There are lots of fish! Dress warm. A couple of pair of gloves and warm neoprene hip waiders help beat the cold sting in the water.
Usually the fish season starts near Napan Bridge and the Loggieville wharf. In the first week of May, Middle Island Historical Park get hits hard with Bass stripers usually on the lighthouse side. Recently, on the cove side we have been hitting Stripers quite hard. The bass start spawning at the end of May near Sunny Corner. It is an amazing sight to see the large bass turning and bubbling in the waters for miles and miles.
There are a lot of fishermen mentors out there and you DON'T need a license. Ashley Hallihan, MVHS teacher, will rig you up at MVHS with fishing gear to try it out as part of his Fly-fishing club. There are a lot of local fish supply shops — Green Diamond -John Deere, ProNature, Canadian Tire, Walmart, and Miramichi Electronics, just to name a few. They are your guides and mentors!
As Catherine Doucette training states: "Stop talking about how busy you are. Stop. Now." The fish won't wait and you have a few weeks in the spring to catch the 50 cm- 65 cm bass to keep. Most local fisherman really don't fish to keep, but rather they fish for the sport of it all. It is a way to socialize with friends and bring family together. We are hosting our own weekend get-away with the Rodd Miramichi River Hotel as a family and friend's bass weekend. Family from all over are attending. I barbeque Stripe Bass whole and make a decent Bass chowder. I heard rumours that a few folks in Miramichi can make a great beer pancake batter for Striper Bass.
The fish are a Sporty catch and this is a unique experience for kids. You can pull in over 100 a day at peak times. I have seen over 125. Some weeks I have pulled in over 800 Stripers but only about a third are keepers. Some take over 30 minutes to haul in and they can range from 10 inches to 36 inches. You might see some fishermen with huge rods but light gear and rods will work. I would recommend 12 lb test or line load and some good steel leaders. The Dollar stores have a great selection of lures so you don't need to break the bank. I bet my buddies that there are so many bass they will take cooked Kraft dinner on a hook!
This year a lot of fisherman are increasing their line test to 20 lb and even 50 lb test. Recently a guy caught an 85 cm fish at the old Ferry Wharf. The fish are there, and there is a sense of pride and river spirit with a variety of local talent. When we are fishing we are always exchanging leader lines, lures, jokes and those crazy fish'n stories – we call this "Community Fishing". I have helped many fishermen pull that lure out of the hungry fish – be careful their teeth are sharp.
There are many recent fish stories. My cousin Greg Walsh just pulled in a fish with a Blue red tail lure from his friend who lost his lure that same evening. We couldn't believe that this fish would still eat with a lure stuck to its mouth. From adult stories to kids stories there are plenty. When a little kid brings in a 10 lb fish it can change their life. I don't know how many times I have seen a kid's eye light up when he or she pulls in their first bass.
We see the future of recreational fishing, the City of Miramichi and the youth being a big part of the values of conservation and the enjoyment of recreational fishing. This "catch and release" striped bass fishery is a fine way to conserve our resource for our kid's future. Make your own bass family event. You really don't need a boat you can have a shoreline event. But if you do go boating – boat safe and don't drink and drive. Please keep your favourite fishing spot clean and bring an extra bag to help promote a clean site especially with all those visitors.
There are a few date ranges to keep Bass: May 9 – May 29, July 30 – Aug 21, Sept 2 – Sept 5, Oct 22 – Oct 30, size range 50 cm 65 cm. The best way to quickly check your size is to mark your rod with white tape at the minimum and maximum size so you can do a quick measurement of the trophy to take home to the barbeque.
And remember the Miramichi Striper Cup is coming up soon, from May 27th – 29th.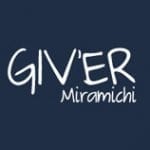 Giv'er Miramichi is about "What's up, what's new, what's happening". We are focused on building people up, supporting one another and celebrating our successes.