"Closing the Season" Book from Brad Burns
"Counting today, we still have three more fishing days left. That's three days of blueberry pancakes, bacon, and eggs fried in bacon fat; three days of evening cocktails and tasty, high-calorie hors d'oeuvres on the deck; three days nodding off in our chairs after dinner, watching a game on the television, then staggering upstairs to unheated bedrooms to sleep under a pile of wool blankets with the cold New Brunswick air pouring in through open windows." — Excerpt from Closing the Season.
Closing the Season recounts an Atlantic salmon fisherman's love affair with the world-famous Miramichi River and with the Cains, one of its most appealing autumn-run tributaries.
The book offers more than 125 photos and illustrations including carefully researched old maps and other interesting historical documents. Brad Burns shares useful information about flies and angling gear, along with anecdotal how-to that will be of interest to any salmon angler. But Closing The Season is most of all a celebration of the joys of salmon fishing in a great Canadian watershed that boasts the largest run of Atlantic salmon in North America.
"Back at the top, I worked out the same amount of line and swung the big, wiggly streamer over the lies. Not far from where the grilse had taken 45 min­utes ago, I felt the thud of what could only be a big heavy salmon. In a classic jump, heading slightly upstream but mostly just straight up out of the water, a hen salmon of approximately twenty pounds rose to the tip of her tail, and slowly sunk back in as she twisted and shook in the air." — Excerpt from Closing the Season.
Closing the Season can be purchased locally at the Trout Brook Fly Shop, Curtis Miramichi River Outfitters, W.W. Doak, and Fredericton Outfitters, or you can order it at www.bradburnsfishing.com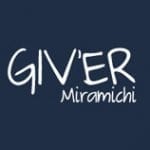 Giv'er Miramichi is about "What's up, what's new, what's happening". We are focused on building people up, supporting one another and celebrating our successes.