Acadian Day Celebrations on Waterford Green
Celebrate Acadian Day beginning at 11:30 am on Monday August 15th at Waterford Green in Chatham with PEI's bilingual folk/ fusion trio Ten Strings and a Goat Skin and Ottawa–Gatineau's rock/ folk/ psychedelic/ traditional band Hey, Wow.
In case of rain the celebration will take place at Carrefour Beausoleil, 300 Beaverbrook Road in Newcastle. This is a Free event with Acadian Food and Souvenirs, Children's activities, Face painting and bouncy castle. Bring your own lawn chair!
Described as "A seamless, polished, barrel-drum-tight, rhythmically innovative and a wildly entertaining traditional music powerhouse" (The Guardian), Ten Strings And A Goat Skin continues to make waves both in North America and overseas. Recent winners at the East Coast Music Association Annual awards conference, they received the 2015 ECMA for World Music and have garnered numerous awards and nominations including several Canadian Folk Music Award nominations on their debut album, Corbeau. Their newest work, Auprès du Poêle launched in June and was eagerly anticipated.
Hailed on two continents as" infectious" and "the best in contemporary/ traditional Celtic music", Ten Strings And A Goat Skin is a young bilingual trad/folk/fusion trio, playing Irish, Acadian, French and original creations infused with modern and world rhythms. The band creates a fiery, contagious and unique sound which leaves audiences wanting more.
From Prince Edward Island, with seemingly ceaseless energy, Jesse Périard and brothers Rowen Gallant and Caleb Gallant ignite onstage as Ten Strings And A Goat Skin. You won't want to miss their performance in Miramichi starting at 12 noon on Monday, August 15th.
With a crazy accordion, an ominous bass, frenzied drums and a sumptuous-sounding electric guitar, Hey, Wow defies any preconceived ideas of festive orchestra. Expect exaggeration, a wild time and inappropriate behaviour. It's music that will make tears flow and get those in the know to dance. A Hey, Wow show is once-in-a-lifetime experience, so take advantage of this opportunity beginning at 2 pm on Waterford Green!
Hey, Wow is Jean-Marc Lalonde's newest musical project. Best known as the accordionist for the traditional group La Ligue du Bonheur, as well as the folk-rock band Deux Saisons, Jean-Marc has abandoned his checkered flannel shirts for a rawer sound. There's accordion in it, but as you've never heard it before; amplified, distorted, wah-wah'ed … in short, unrecognizable at times. With this rocking new sound, while still keeping a foot in traditional and roots music, Jean-Marc offers up playful songs that talk about the moments in life that stand out: the joys of falling in love, along with the chaos, break-ups and revenge that follows. He even sings about the typical arguments that every couple has at Ikea!
On stage, Hey, Wow offers up a once-in-a-lifetime experience thanks to their dynamic stage show, music that will keep people dancing into the wee hours and songs and stories that everyone can relate to … all in the same show!
Jean-Marc is a recipient of the Billochet du jongleur Award from the Centre franco-ontarien du folklore for his contributions in keep oral traditions alive in Ontario's francophone community. With La Ligue du Bonheur, he also had the opportunity to perform for Prince William and Kate, the Duke and Duchess of Cambridge during their 2011 Royal Tour of Canada.
In 2014, Hey, Wow won the Folk Music Ontario and Stingray Music Songs From The Heart Award for Best Francophone Song for C'est toi que ça me prend. In 2015, the group received three awards at the closing gala of the 34th Contact Ontarios: the Coup de Foudre Award, the Festival du Voyageur Award and the Festival Franco-Fête de Toronto Award.
The post Acadian Day Celebrations on Waterford Green appeared first on Giver on the River.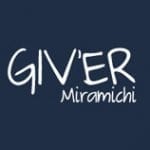 Giv'er Miramichi is about "What's up, what's new, what's happening". We are focused on building people up, supporting one another and celebrating our successes.