Fresh 4 Less Program Launches in Miramichi Region this Month

Update: If you can't get to one of the locations on October 4th you can still sign up. Email Fresh 4 Less for the registration or sponsorship form, fill it out and mail with $5 registration fee and first month payment of $10 or $20 to our Wellness NB partner at:
Fresh4Less- Pensez Frais
Suite 207, 1780 Water Street
Miramichi, NB E1N 1B6
Registration is ongoing but orders must be in at least a week and a half before distribution date. Next deadline is October 24th.
Fresh 4 Less is an exciting new program that offers fresh fruit and vegetables once a month at a reduced cost compared to retail prices. The program was initiated by the Northumberland Food Security Network which has a variety of community, government, and non-profit partners. Fresh 4 Less will be launching on October 4, 2016. Interested people are invited to come to the official launch of the program at 1 pm at the Eel Ground School.
The idea for the name sprang from an inspirational visit to Eel Ground First Nation where their Youth Champions have been running their own Fresh 4 Less program for the last few years. The Fresh 4 Less – Pensez Frais launch coincides with the opening of the Eel Ground Community Food Centre in homage to the ongoing work done by the community and the Northumberland Food Security Network towards everyone's access to healthy, affordable, local food.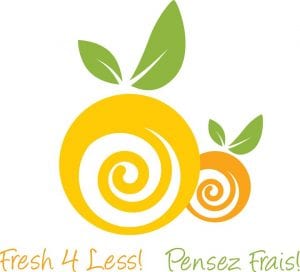 Orders of $10 and $20 are available for purchase and will be ready for pick-up on the first Tuesday of each month. Each order will contain up to double its value in fresh produce. An initial one-time fee of $5 will be required at sign-up. There will also be an opportunity to sponsor a community member in need to receive a $10 or $20 bag.
There will be staple items every month including: potatoes, onions, carrots, apples, oranges, and bananas. Wherever possible the produce will be local as well. An insert will be included in each order with meal preparation tips, recipes, and health information based on what is in each produce order that month.
Fresh 4 Less will initially be available in Newcastle, Chatham, Blackville, Rogersville, Baie-Sainte-Anne, and Neguac. The program will launch on October 4th. Registration will be available from 4 to 6 pm at each location throughout Northumberland County. The first order will be on November 1st. A group or individual is also welcome to sponsor a box to be given to those in need.
For more information please contact Michelle Davidson-Legere at (506) 626-0235 or . Visit the Facebook page @Fresh4LessPensezFrais.
Register October 4th from 4-6 pm at the following pickup locations across Northumberland County:
*Miramichi*
Beaverbrook Kin Centre, 100 Newcastle Blvd, Newcastle
Caring Friends, 24 Princess St, Chatham
The HeRMitage Community Centre, (for Retirement Miramichi residents)*
*Baie-Sainte-Anne*
École Régionale De Baie-Sainte-Anne, 5362 Route 117, Baie-Ste-Anne NB
*Blackville*
Greater Blackville Resource Centre, 12073 Route 8, Upper Blackville
*Rogersville*
Registration will be held on October 5th at the Co-op from 4 – 6 pm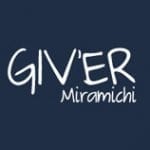 Giv'er Miramichi is about "What's up, what's new, what's happening". We are focused on building people up, supporting one another and celebrating our successes.