Hospice Miramichi's "Home for the Holidays" Fundraiser
Hospice Miramichi is hosting their second annual "Home for the Holidays" fundraising event this weekend from November 24th to the 27th and they wish to invite the public to experience their historically significant building, located at 14 Howard Street in Chatham, as they decorate for the holiday season.
The one time ticket purchase ($10 for adults, $5 for children under 12) gives the purchaser unlimited admissions over the entire weekend. The public is encouraged to visit often, take a tour, enjoy a hot chocolate and place a bid on the fully decorated Pre-Lit trees. This year Hospice have included several apartment sized trees that will be up for auction and have partnered with local craft persons who will be on site to accommodate any shopper who might be looking for that special gift.
As well, Hospice Miramichi will be introducing their new line of luxury hand crafted bath and body products especially designed and manufactured for them off site by a local artisan. These products are all natural and have been manufactured and registered in compliance with Health Canada Cosmetic Regulations. The required professional insurance certificate will be on the premises as well. Following "Home for the Holidays" the bath products will be available for sale exclusively at the Hospice Shoppe or at any Hospice fundraising event.
"Home for Holidays" will be open to the public Thursday and Friday evening 6 to 9 pm, Saturday 10 am to 9 pm and Sunday 12 noon to 4 pm. This year Hospice will hold their Angels Remembered tree lighting on the opening night of "Home for the Holidays". Those individuals who have donated to Hospice on behalf of a loved one towards the Angels Remembered campaign will be able to attend Thursday night's event to experience the tree lighting at no charge with proof of their donation. If they are planning on returning over the weekend however, they will be required to purchase an admission ticket.
"Home for the Holidays" tickets are available for sale at the Hospice Shoppe, Hospice office or at the door. Donations on behalf of a loved one for the Angels Remembered fundraising campaign can be made at the Hospice office or at the Hospice Shoppe. Donations can also be made in person at Walmart on November 12th between the hours of 9 am and 6 pm and at Kent from November 9th to the 23rd.Donations over $10 are eligible for a tax receipt.
All money raised through the fundraising efforts of Hospice Miramichi is used to offset the expenses of offering free support services for families in the community living with the effects of life limiting illnesses.
For further information please call 773-7607 or email .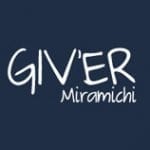 Giv'er Miramichi is about "What's up, what's new, what's happening". We are focused on building people up, supporting one another and celebrating our successes.