Miramichi Elects New Mayor & Councillor
Miramichiers went to the polls Monday October 14th to fill the mayor and one councillor position in city hall. Congratulations to Adam Lordon on being elected mayor and Ryan Somers on being chosen councillor!
Below is the Thank You Message Adam Lordon posted on Facebook:
Thank You!! Merci! What a night!!

Tonight, I am humbled at the support and confidence Miramichiers have placed in me.

This was a resounding win tonight, not for me, but for the values which we hold dear: inclusion, teamwork, community, hard work, and smart decision-making.

In May, Miramichiers voted for positive, progressive leadership that would modernize the way the city does business, and work together as a team to tackle the challenges we face.

Tonight they have confirmed that they like where we have been heading, and that they want a government and a community that are inclusive, collaborative and welcoming to people of all backgrounds.

Together tonight, we are beginning a new chapter in our city's history.

As we begin this new chapter I wish to acknowledge and thank all previous Mayors and Councils for their work, especially Mayor Cormier. Mayor Cormier led our city through some tough economic times and always stayed positive. I promise to do the same.

The future of our city will be what we make it, and we begin with great people and great potential. The seasons are changing, and tonight it is Spring in Miramichi.

I am so proud to live in a community that has chosen positivity and progress over old boys and old ways. As Michelle Obama famously said "when they go low, we go high" and all campaign long we consistently took the high road, even when others didn't. I am extremely proud of this.

I would like to congratulate Ryan Somers for becoming the newest member of council, and congratulate all candidates for putting themselves forward.

And now for some thank yous!!

First of all thanks to my late mother Nancy Lordon. When I came home to help with Mom's first campaign in 2008 I had no idea this is where we would end up. Thank you Mom for raising us to be the kind of people who care about their community, to stand up to injustice, and the rights of the most venerable. And most of all for teaching me compassion. I love you and I know you are here with us tonight.

Thanks to Evan Hudson for putting up with another campaign!!

Thanks to my family and friends for their love and support.

Thanks to my campaign team for all of their hard work. We had an incredible team and I can't thank you all enough.

And most importantly thanks to all of you who supported our campaign! We had so many people working so hard to build a positive progressive community, from all ages, backgrounds, and corners of the city to build support for our vision. Congratulations to you all!

Tonight we celebrate but our work is just beginning!



Newly elected Councillor Ryan Somers also posted a message to his Facebook account saying:
"I would like to take one final opportunity to say thank you to the citizens of my hometown of Miramichi. The support you have shown me during this campaign has been overwhelming. I am absolutely thrilled to be able to officially represent the city that I love so much as a member of City Council. From the bottom of my heart, thanks so much Miramichi."
The final polling numbers were as follows:
Mayor
Adam LORDON – 4216
Larry LYNCH 1961
Peggy M. MCLEAN 1064
Councillor
Ryan Richard SOMERS 1800
John Winston FORAN 1440
Michael (Tanker) MALLEY 1290
Aaron FURLONG 824
René SMITH 796
Katherine MARTIN 509
Connor ANTHONY 350
Anthony (Tony) F. RUSSELL 169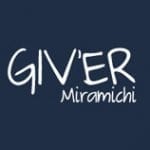 Giv'er Miramichi is about "What's up, what's new, what's happening". We are focused on building people up, supporting one another and celebrating our successes.