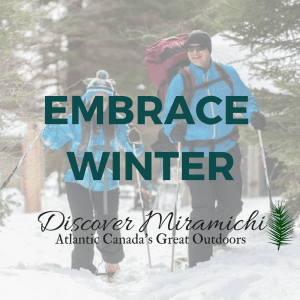 The weather outside is frightful, but Miramichi is so delightful! Don't let Jack Frost get you down, come to Atlantic Canada's Great Outdoors for the perfect winter getaway! We here at Discover Miramichi have made it easy for you with a quick list of things to do and places to stay this winter!


1. Kouchibouguac National Park offers over 15 km of cross country skiing/ snowshoeing trails with warming huts! You can even try your hand at Fat-Biking
2. Hit the trails of the Northern Odyssey by sled; check out trail conditions here
3. Cross country ski (or snowshoe!) your way through over 25 km of trails on the Miramichi
4. Enjoy a One-Horse-Open-Sleigh Ride with Fletcher's to a cozy cabin in the woods and warm up with hot chocolate!
5. The City of Miramichi offers public skating, or enjoy one of our many outdoor rinks
6. Strap on your snowshoes and wander your way through the trails of Metepenagiag Heritage Park – the village of thirty centuries.

1.  Escape the cold and Escape Miramichi (ha ha!) Teams of 4-6 work together to manage their way out of the Escape Rooms: Cabin Fever, Down the Rabbit Hole and Murder Mystery!
2. Join the Miramichi Folk Song Festival for their White Gold Winter Concert on February 12, 2017 featuring Leander Mendoza
3. Wilson's Trailside Pub offers hot, delicious food and is conveniently located right off of the snowmobile trails
4. 1809 Miramichi offers a splendid view of the river and the sounds of a crackling fire while you enjoy a luxurious meal !
5. Weave your way through the unique shops of the Historic Chatham Business District or stop in the Newcastle business district to grab some goodies from Cake a Chance!
6. The Miramichi Folklore Park offers live music to tap your boots to all year round!

1. Along with your choice of a 3 bed or 6 bed cabin, Country Haven offers a wilderness cabin which can only be reached by cross country ski or snow shoe!
2. Wilson's Sporting Camps offer snow mobile rentals and tours, and are just off of the local trails!
3. Ledges Inn offers snowmobiling specials where you can warm up in their cozy fireside suites or rent the main lodge!
4. Truly experience Atlantic Canada's great outdoors with Winter Camping at Kouchibouguac National Park
5. Metepenagiag Lodge offers close proximity to the Metepenagiag Heritage Park to explore the village of thirty centuries
6. Storeytown Cottages is managed by two outdoor adventure graduates, so you know there is never a dull moment! They offer tube sliding, snowshoeing and cross country skiing!