Boston Dinner 2017 Will Honour MSA Long-time Director & Former Chairman Vince Swazey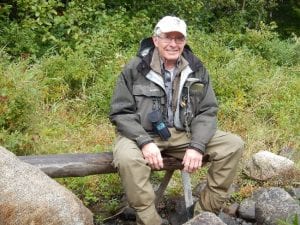 The 63rd Annual Boston Dinner to support the Miramichi Salmon Association (MSA) will be held Saturday, February 4th, 2017 at the Burlington Marriott, Burlington, MA.
This year the Boston Dinner is honouring our very own Director and Past Chairman Vince Swazey so we hope many of you can join us to pay tribute to this very special man.
Dinner Patrons
Salmon Level ($1000) 2 tickets
Grilse Level ($750) 2 tickets
Please call MSA (US) Office, 781.397.8870, to confirm your support for Salmon or Grilse sponsorship. Dinner Patrons will be recognized in the Dinner Program and Auction Catalogue.
Individual Tickets:
$175 per person / $325 for couple / Guests 35 years of age and under are $110.
Dinner Choices include : Beef, Chicken, Fish or Vegetarian.
PLEASE NOTE:
Return Reservations Form No Later Than January 27th. Be sure to indicate any allergies or dietary restrictions. Ticket pick-up and registration will be at the Ballroom Door. Please order your tickets by contacting Kate Flanagan at or 506.622.4000; or Linda Guild at or 781.397.8870.
See full Boston MSA Invite 2017 by clicking here!
Annual Boston Symposium – 2:30 pm February 4th, 2017
 Separating fact from fiction regarding the threats of Striped and Smallmouth Bass; and the roles of the NB Department of Energy & Resource Development, Department of Fisheries and Oceans and First Nations in salmon conservation. Presented by Debbie Norton, MSA Director, President of the Miramichi Watershed Management Committee, camp owner, entrepreneur, former Miramichi Valley high school teacher, and native Miramichier whose family has lived in the valley since the mid 19th century.
The Collaboration for Atlantic Salmon Tomorrow ("CAST"). The CAST partnership comprises prominent scientists, environmental groups and industries for the first time working together on the problem of Atlantic Salmon preservation. The MSA plays a critical operating and management role in its six science projects on the Miramichi and Restigouche rivers. Presented by Tommi Linnansari, from the University of New Brunswick.
Grey Seal Predation and its effect on Atlantic Salmon and its ecosystem. The presentation will cover the over-abundance of grey seals in the Maritimes, its consequences, and the challenges of restoring proper balance among the affected species in its ecosystem. Suju Mahendrappa has studied the problem for years, is an acknowledged expert on the subject, and Director of Maritime Seal Management, Inc.
The common history of Sea Run Brook Trout and Atlantic Salmon runs in eastern North America. Sea Run Brook Trout and Atlantic Salmon have migrated together historically across New England and still do today in the Canadian Maritimes. Vestiges of the Massachusetts "salter" run remain, and Ronald Lasko has been intimately involved in rebuilding it. He frequently lectures on the subject, is the author of 'A TALE OF TWO RIVERS', the first full length book written about Sea Run Brook Trout, which has received Editorial Acclaim in America and the United Kingdom.

Since 1953, the Miramichi Salmon Association (MSA) and its members have directed their capabilities and their funds to the protection of the entire Miramichi River system. The MSA watches over the Miramichi as a champion of conservation on behalf of anglers, outfitters, guides and all others with economic, environmental and recreational interests in the river.